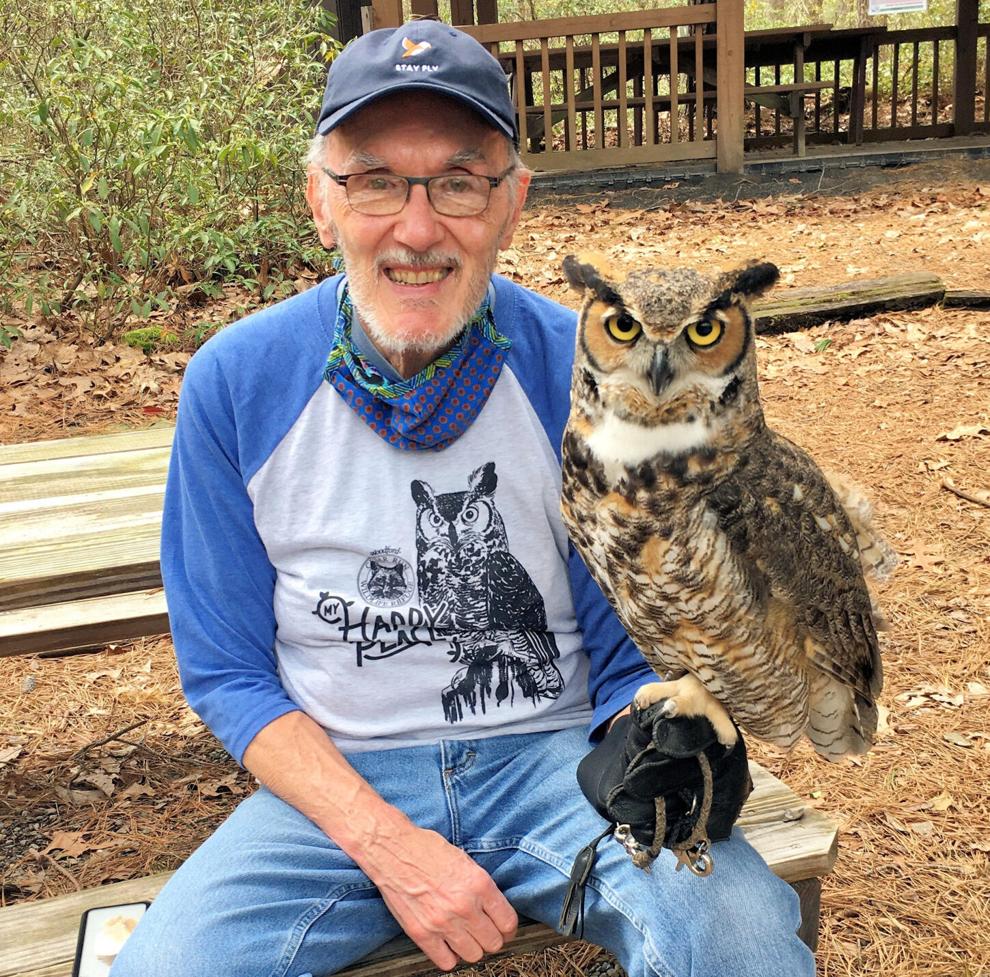 Richard Jones drove to Ramblewood Country Club in Mount Laurel on a mission: rescue a Great Horned Owl that was disabled with a broken wing. 
Normally, volunteers and staff at the Woodford Cedar Run Wildlife Refuge in Medford don't pick up the thousands of injured animals that they treat every year. But Jones, a volunteer, decided to swing by and get the owl.
The owl's wing was broken so badly it couldn't be released and the refuge staff decided to keep it as a "resident." The bird was named Rambler, was trained by Jones, and now it sits on his glove or those of education staff members at the center.
Jones, 74, a retired software developer who began volunteering at the center in 2014 and has a storied involvement, was honored last Saturday as the 2020 animal welfare medalist of the New Jersey State Governor's Jefferson Awards "Honoring Those Who Multiply Good." Jones and his wife, Pam Jones — also a volunteer — live in the Heritage adult community in Medford.
Michael O'Malley, executive director at the refuge, nominated Jones for the recognition and said he was delighted when Jones was named the medalist out of the three finalists.
For O'Malley, volunteers are crucial to the survival of the nonprofit wildlife rescue facility and nature center he runs on 171 acres of preserved land on Sawmill Road.
More than 200 people regularly volunteer — meaning they commit to at least one four-hour shift each week — and they're from 16 to 78 years old, he said. Until a recent retirement, the center had an 84-year-old volunteer.
---
Attend the Woodford Cedar Run Nature Center's Wildlife Baby Shower Drive-Thru this Sunday, February 28, from 1 to 3 p.m. Donate items and admission is free. Click the link above for details of the baby shower.
---
Last year, the center took in a record 6,000-plus birds and mammals for rescue from South Jersey. That's far higher than the then-record-breaking 3,200 animals the center took in when O'Malley started 10 years ago. He said continued human development in the wildlife habitat has increased the number of injured or orphaned animals.
Cottontail rabbits account for 1,000 patients a year, but the mix of those treated, and mostly released, include white-tailed deer fawns (no adult deer), songbirds, hawks, owls, falcons, bald eagles, foxes, squirrels, hedgehogs, coyotes and raccoons.
Jones, the refuge's volunteer award winner, retired as a combat systems software developer with Computer Sciences Corp. and was looking for volunteer opportunities. He found an orphaned baby squirrel on his daughter's deck and took it to Cedar Run. Then he accompanied his grandson to one of the center's education programs. 
"Maybe I can give this a try," he said of his decision to volunteer. "From day one you're handling wildlife. Wildlife was always something you'd see in the distance."
After rescuing Rambler, he was trained as a bird trainer. His students also include a red-tailed hawk and a falcon.
Working at a wildlife rescue operation isn't like volunteering at a dog or cat shelter. Usually the recuperating wildlife are fed by puppets and volunteers don disguises that include mirrored face shields and baggy clothing. They want the wildlife to remain wild and not become accustomed to humans — something that could endanger them upon their return to the wild.
And the wildlife aren't necessarily furry or feathered friends. That was evident when Jones showed up at a local urgent care center a few years ago with a deep talon puncture wound in his hand, suffered when he was force-feeding an emaciated and dehydrated hawk.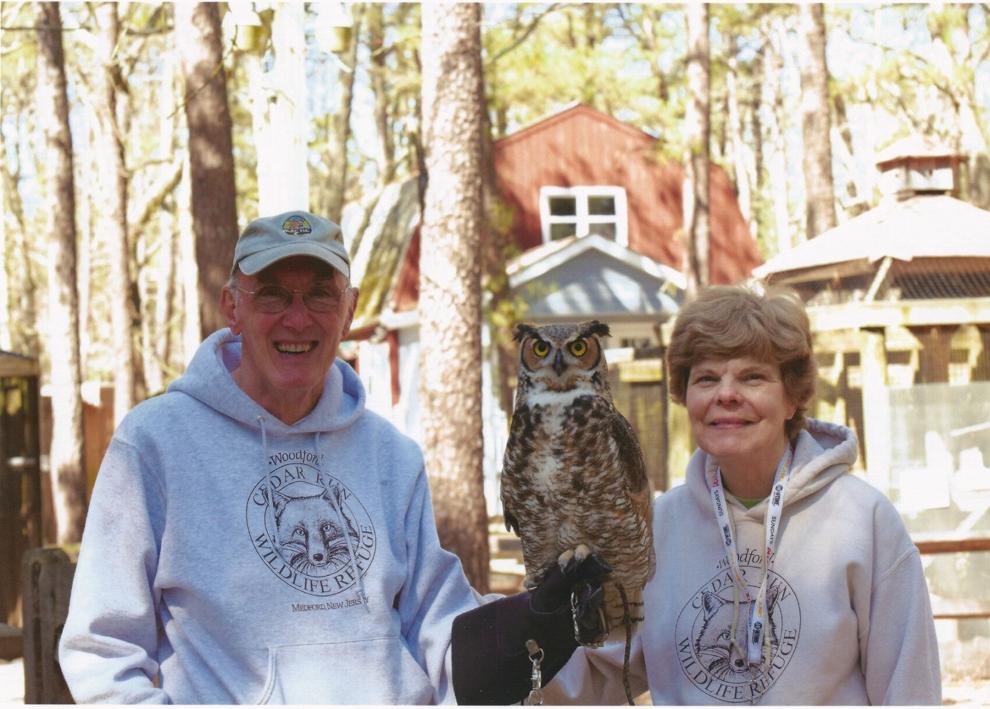 The medical staff was perplexed, he said, and had to Google to find out what antibiotic prescription would be used with such a wound.
"It comes with the territory," Jones said of animal bites. His include others from a squirrel and a ground hog. "Everybody who's there for any length of time will have one of these stories."
Jones says he also has been sprayed frequently by skunks, to the point that he's nearly immune to the scent. He recalled the time the skunk scent hung heavy in the animal hospital and he dropped by the post office in Medford. Jones got some looks from other patrons and one even remarked on the unpleasant odor.
Besides training birds of prey, Jones spends his 15 hours or so a week of volunteering as the "ambulance driver." Although people need to get the injured or orphaned animals to the refuge, the refuge transports animals to the Animal & Bird Health Care Center on Springdale Road in Cherry Hill for treatment. One of the veterinarians, Dr. David S. Kupersmith, serves on the Cedar Run's board of trustees and provides his services at no cost.
The COVID-19 pandemic hit the refuge, which depends largely on admission fees and education program revenues to operate. O'Malley, the executive director, said the nonprofit ran at a deficit for a while and then later in the year came out of the red because donations helped it get "through the storm."
Spring is the busiest time of the year for Cedar Run as many animals give birth and have unfortunate encounters with humans, O'Malley said. A rabbit's nest might be run over by a lawnmower. Or a tree might be felled and it was the home to birds.
While the refuge takes in orphaned deer fawns, it does not accept adult deer, O'Malley said. Adult deer are highly stressed and their legs are powerful. They can injure themselves or refuge workers. O'Malley said an adult deer can survive many injuries and he has seen some with only three legs. In this area, they have few predators.
Most animals are released where they are found to prevent, for example, imposing a rescued animal into another's territory, O'Malley explained. 
When released, the animals quickly take off and don't look back.
"If we did our job, they want to get away from us," he said.
---
If you go
Website: www.cedarrun.org
Facebook: Woodford Cedar Run Wildlife Refuge
Address: 4 Sawmill Road, Medford, NJ 08055
Telephone: 

856-983-3329 (wildlife refuge for an emergency is Ext. 107)

Email: info@cedarrun.org
Hours: Nature Center open seven days a week from 10 a.m. to 4 p.m. Admission is $10 for adults and $5 for children under 16. An annual family membership is $75, providing free admission.