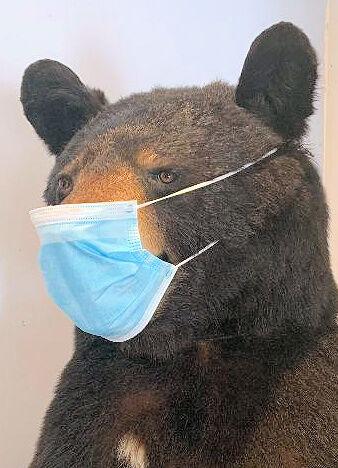 It may be hidden in the woods of Medford, but Woodford Cedar Run Wildlife Refuge is still a sought-after destination place for families — especially families who have been cooped up for months during the pandemic.
And now that the refuge has rolled out its Phase I reopening after a state-mandated three-month closure, people are starting to find their way back.
Mike O'Malley serves as director of operations at the refuge these days. On the July 8 reopening day last week, before the doors even opened, a mom with her child in a stroller was already queued up and waiting.
"It almost felt like we never closed," O'Malley said, adding that the mid-week July reopening day was pretty much on a par with an average summer day at the refuge.
"All things considered, it was a pretty smooth reopening," O'Malley said. "We were a bit apprehensive at first; we wanted to do things right. Before reopening, we did our research to make sure we would be giving people a good experience while being safe at the same time."
O'Malley said he and the staff were pleasantly surprised at how receptive visitors were to the newly implemented safety procedures, which include social distancing, the wearing of facial coverings inside the nature center and the use of hand sanitizers. "I think families really appreciate the extra precautions we're taking. It makes them feel more comfortable."
Of course, the very "nature" of the 171-acre nonprofit refuge lends itself to spreading out in a socially distant way — hiking, wildlife-watching, visiting the outdoor animal enclosures. "Unlike other businesses, we can allow people to visit us without ever having to come into a building."
Woodford Cedar Run Refuge has a a three-pronged mission: wildlife rehabilitation, environmental education and habitat conservation. The property includes a nature center, a wildlife hospital, a wildlife housing area (for permanent furry and feathered residents), a reptile room, a gift shop, a playroom, picnic areas and a network of interpretive trails that highlight the unique flora and fauna of the Pine Barrens.
Staff members have stayed busy during the past few months, not only caring for the animals on site, but trying to be innovative — offering virtual educational programs, staying active in social media, starting an online nature club.
During the Phase I reopening period, visitors (no more than 15 at a time) can access the nature center and gift shop, but the small reptile room and the playroom with hands-on activities are not available. Also, the picnic pavilion will not be open to the public, as it is being used solely for its summer camp program.
O'Malley said that while the refuge has been closed to visitors during the months of the pandemic, the wildlife hospital has been going strong, still operating non-stop, 24-hours a day/7 days a week. In fact, the number of animals needing the wildlife hospital was up by 22% this spring.
"We actually expected there to be a lot less animals needing help, since businesses were closed and there were fewer people on the road, but it turned out to be just the opposite," he said. "One component is that people are home and, as a result, they're finding more injured animals. And, of course, with more development, there's more human-wildlife interaction."
In other words, O'Malley explained, the need for financial support is still there. "Our revenue is not what it was a year ago," he said. "Because of social distancing, our summer camp program is half the size as it normally would be, so our income there is cut in half. Plus our traditional group programs are practically non-existent. At this point, as a nonprofit that provides services such as a wildlife hospital, our need for operating dollars is non-stop."
Those interested in supporting the efforts, can go to the website and make a donation. Or they can purchase much-needed supplies found on the refuge's "wish list" — also accessed via the website. People can symbolically "adopt" one of the 60 resident animals who are unable to be returned to the wild. The Adopt-A-Wild-One program, which is especially popular with children, helps provide food, shelter and medical care for all of the animals admitted to Woodford each year.
"As an overall trend, our need at the wildlife hospital has continued to grow," said O'Malley, who has been with Woodford Cedar Run for more than a decade. "When I first started, we took care of about 3,000 animals a year." This year so far, he said, more than 5,000 animals — from everyday gray squirrels to rare bald eagles — have been rescued, cared for, rehabilitated and/or returned to the wild.
As to when the refuge will begin the next phase of reopening, allowing groups, providing in-person educational programs, allowing access to all inside exhibits, giving guided tours, etc., O'Malley said they plan to err on the side of safety.
"We've been carefully following all of the state guidelines, trying to do everything to ensure a safe experience," he said. "We really want to make sure we're not jumping the gun. A Phase II reopening will be entirely based on how things are going in the state."
He added: "We want people to know that we're still here, we're taking a different approach to our educational programs, we're adapting our programs to meet the needs of the public. We're heading into an unknown future as far as our school groups, but in the meantime, we're looking for grants that will help us improve our technology."
---
Details of the Woodford's Phase I reopening:
Nature Center: Open to the public at reduced hours. Monday to Friday, 10 a.m. to 4 p.m. and Saturday and Sunday, 10 a.m. to 3 p.m. Schedules may be adapted to ensure rigorous cleaning and to maintain the health and safety of guests, summer campers, staff and volunteers. The outdoor hiking trails and wildlife housing area will remain open until dusk and fee boxes may be used after hours. The Nature Center uses one-way movement — entering through the front door and exiting out the back. Exceptions are made for individuals with disabilities, requiring the use of a handicapped entrance.
Occupancy: Currently, limited to 15 persons at a time. If there is a line, brief visits are encouraged. Staff has the right to reduce this number, if needed. During Phase I, only visitor admissions and the gift shop will be available. The reptile room, playroom and restrooms will remain closed at this time. Outside restrooms will continue to be provided, as well as foot-pump hand-washing stations.
Social Distancing: Six feet must be maintained within the building and should continue to be observed along the trails in the wildlife housing area.
Face Coverings: Face coverings are required for visitors, staff and volunteers inside the Nature Center. Individuals, over age 2 without a face covering will not be admitted.
Hand Sanitizer: Hand sanitizers are available at the building entry and exit and guests are encouraged to use them. Staff will sanitize their hands between transactions with guests.
Cleaning: Cleaning protocols for public spaces have been expanded, with sanitization of all surfaces scheduled regularly.
Picnic Area: The picnic pavilion will not be open to the public, as it will be used solely for summer campers.