Joyful first-graders clambered over a pile of logs a few feet in the air. Others used arm muscles, suspending their bodies on bright orange bars. And several dug into a sand pit, with one boy — head to the ground — spraying sand behind him like a dog digging a hole.
Tree stumps formed stairs. And a small hill held three options for play: climb the large stones, slide down one of two traditional slides or simply roll down the grass. A slip and fall — inevitable for this energized group — meant landing on soft, cushioning mulch and not hard asphalt or concrete.
This was the new definition of "recess" last Wednesday on a crisp morning at Moorestown Friends School, where warm jackets did not deter activity.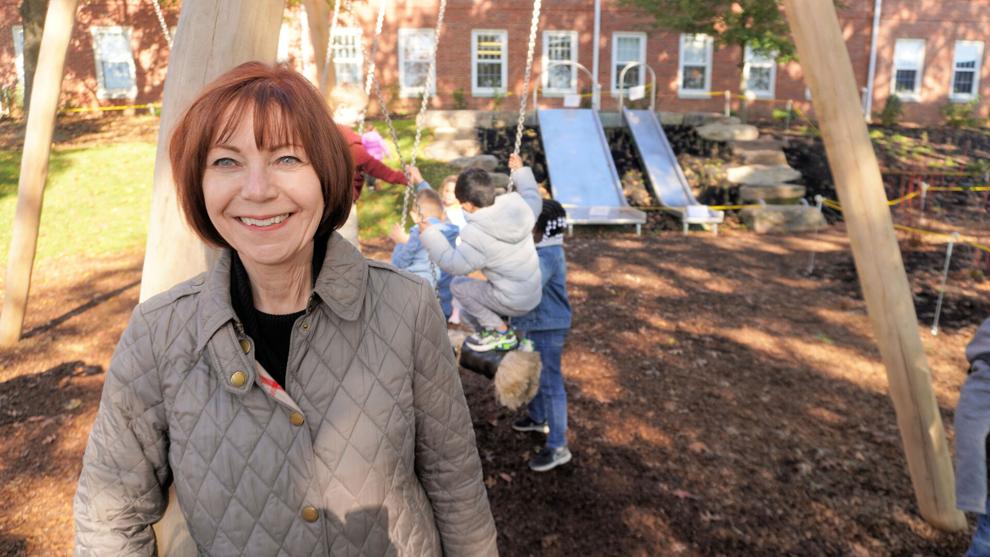 While students of the past at the private school spent their time outside on traditional equipment found on most playgrounds, those in fifth grade and younger beginning this week entered "Playscape" and its four terraces. 
The play area replaced the old playground and was the result of a year of study and design. Lower-grade school students were included in the envisioning process, at one point assembling craft materials to build 3-D models to show the adult designers what, from their young point of view, could produce fun.
"They asked the children what they wanted in a playground," said Teri Kaiser, of Voorhees, a first-grade teacher who has been with the school 20 years. In the new Playscape, "the children can challenge themselves. Or not," she explained.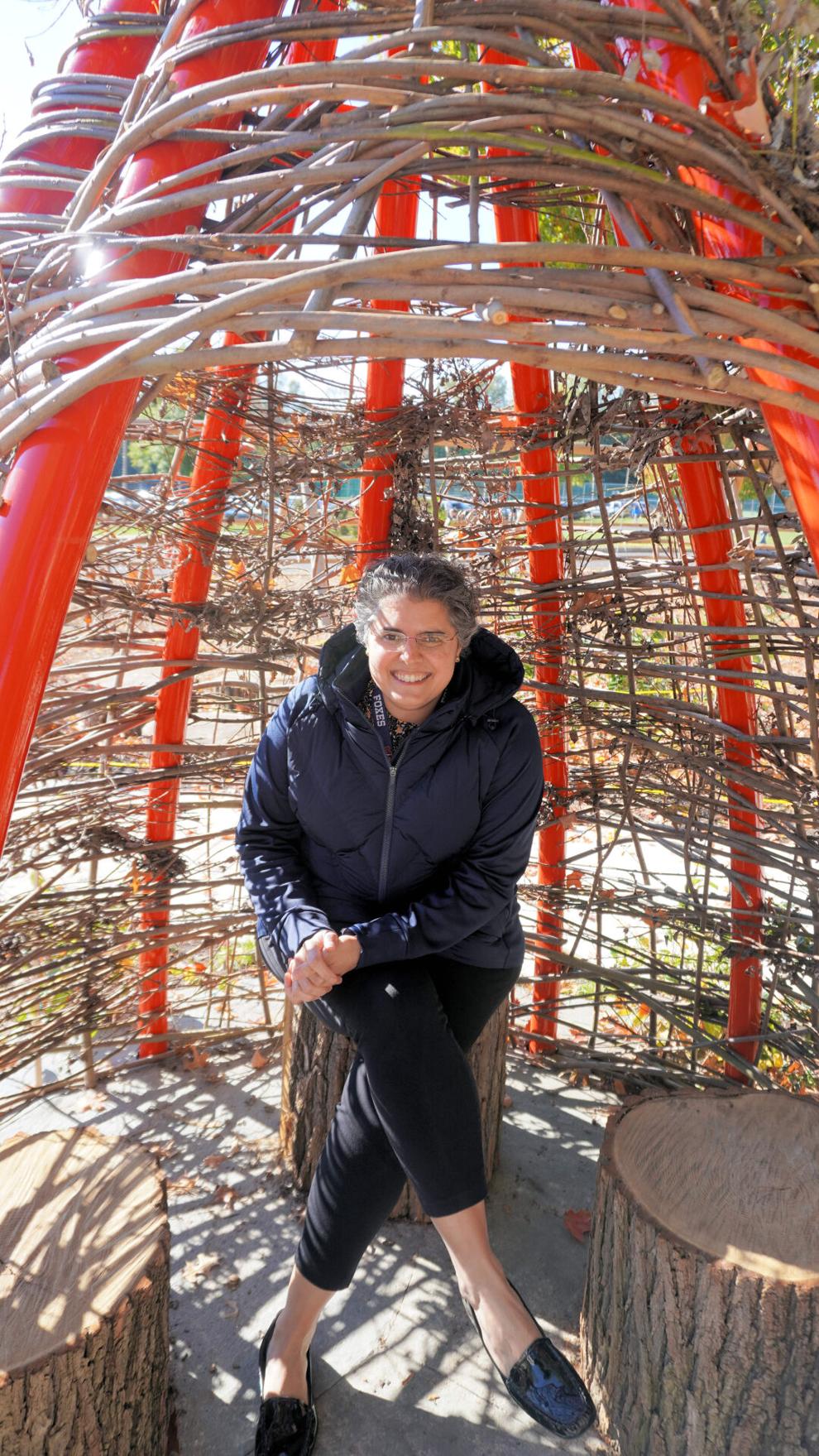 Julia de la Torre, head of school, is in her fourth year at the day school founded by the Religious Society of Friends, or Quakers, in 1785. Issues with the old playground emerged in 2018, she said.
"It was very clear the playground was starting to crumble," de la Torre said, noting that some of the equipment was so old that replacement parts no longer were available.
Everyone settled on a common goal: "What if we really dreamed big, what could it look like?"
What resulted was a blend of activity, from chaotic to solitary.
A student can sit alone in the "onion pod" and have quiet time. Vines planted around the onion will mature and eventually cover the skin. Students who want to socialize with light play can share a swinging rubber hammock. Or they can opt for serious and fast back-and-forth on a pendulum swing.
Yes, some tradition was retained. Six conventional swings sit on the Playscape. During the design phase, the students' top request was for swings, according to the school.
While most playgrounds have an institutional look, with straight edges, 90-degree angles and man-made materials, the Friends School's Playscape emphasizes organic materials.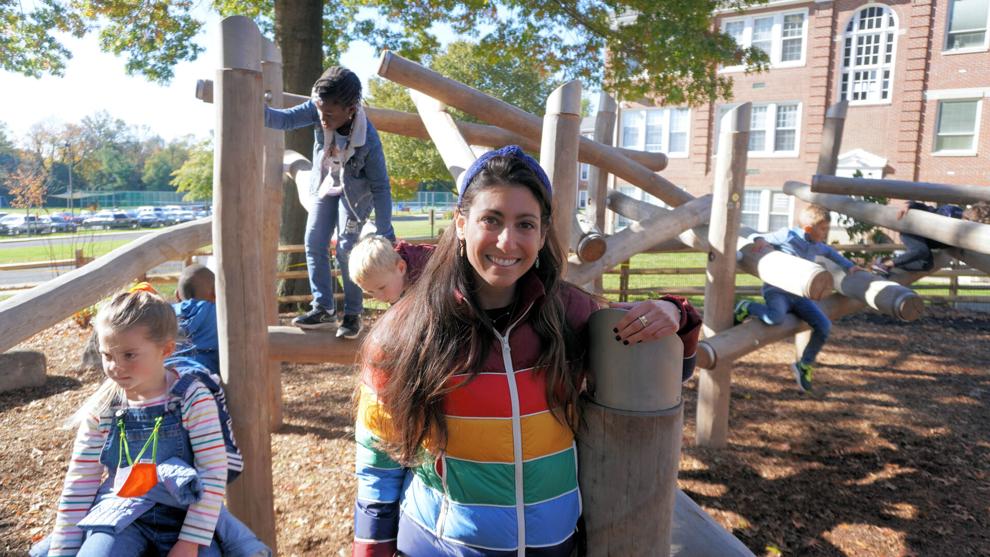 "This is much more natural looking," said first-grade teacher Kristen Novak, who lives in Center City Philadelphia and is in her seventh year teaching at Moorestown Friends. Novak said the teachers are using the Playscape in the classroom for social and emotional learning, with an emphasis on skills like keeping your body in control and sharpening depth perception.
The old playground was built on an incline and had drainage issues, with water and mulch running down into a pool at the bottom. The Playscape was designed with a rain garden to collect the runoff. In Playscape, the school planted 14 trees and more than 2,600 native plants, accounting for 27 different species, according to the school.
Playscape was designed by Studio Ludo, a Philadelphia-based nonprofit "whose mission is building better play through research, design and advocacy," according to Studio Ludo's website. Metcalfe Architecture & Design of Philadelphia was a contributing design partner and construction was by ThinkGreen of Glenside, Pennsylvania.
Moorestown Friends, with its campus in downtown Moorestown on East Main Street, has 644 students from pre-school through 12th grade. The school's top six sending towns are Moorestown, Mount Laurel, Cherry Hill, Voorhees, Marlton and Lumberton, according to the school.
Playscape is aimed at the 180 students in fourth grade or lower and 29 students in fifth grade.
De la Torre said older students were interested and the school is trying to get them involved as well. Parents were invited this weekend for open play on Playscape with their students, she said.
"Most playgrounds are designed one way," de la Torre said. "What kids need is open-ended play."