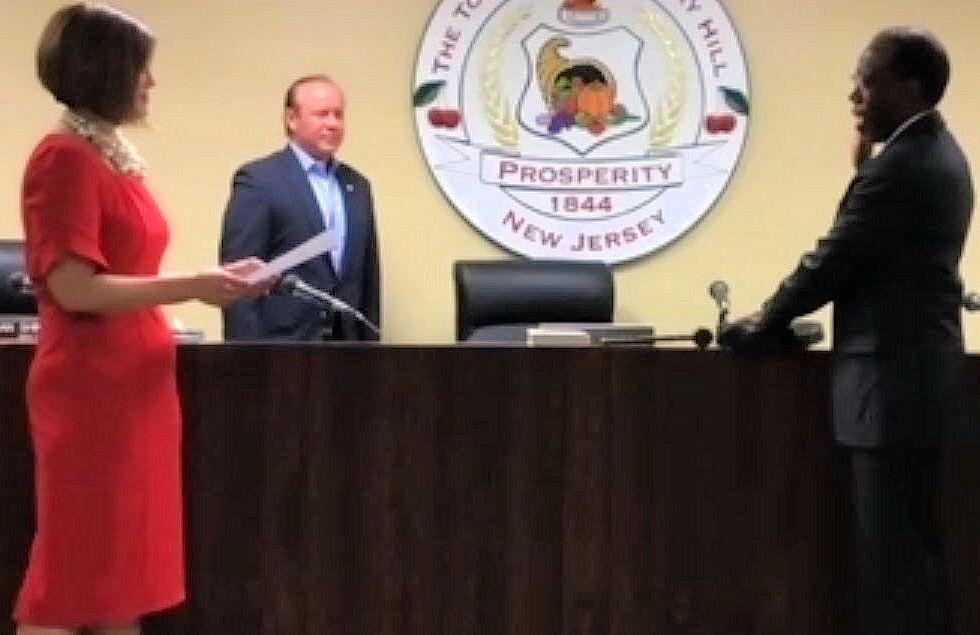 William A. Carter 3d, a 30-year Cherry Hill resident and member of the township Planning Board, Monday night was named to the Cherry Hill Township Council to fill the vacancy caused by the recent resignation of Carolyn Jacobs.
Carter will serve through the end of this year and can run for a full term on council in November.
Although there were three nominees, Carter was unanimously named with no discussion by council members. Although other members of council were meeting virtually on Zoom, Carter was in council chambers with Mayor Susan Shin Angulo and Council President David Fleisher and was sworn in immediately after the 6-0 vote. Council member Carole Roskoph nominated Carter and Sangeeta Doshi seconded the motion, both using Zoom.
Some members of the public who spoke challenged the mayor and council for what they said was a lack of transparency with Jacobs' resignation and the naming of her replacement.
Cherry Hill resident Rena Margulis questioned the announcements surrounding the resignation of Jacobs. She asked why, several days after Jacobs resigned, Mayor Angulo and council posted a statement to the town website saying they had asked Jacobs to resign.
"The additional statement was appropriate and we stand by it," Fleisher said, responding to Margulis' question.
Margulis also asked: "A member of the council resigned, so there was no press release, no reaching out to the press?" She also said there was no mention of the resignation in the mayor's weekly newsletter sent out last Friday.
"You're entitled to your opinion and I don't have anything further to add to it," Fleisher said.
An email request by 70and73.com Saturday morning to the mayor seeking further comment on the statement went unanswered.

Jacobs' resignation — which has sparked controversy on Facebook community pages among town residents — came after remarks she made about looting in Philadelphia during the June 8 council meeting, recorded on Zoom.
At Monday night's virtual council meeting, Fleisher noted Jacobs' four years on council and 15 years on the Planning Board.
"She has given much of herself and has devoted her energy to the people of Cherry Hill," Fleisher said at the meeting. "But words do matter, especially those spoken by elected officials."
During the public comment portion of Monday's meeting, Tina Truitt, president of the Cherry Hill African American Civic Association, said Jacobs' comments "were very inappropriate and offensive."
"I personally commend you for doing the right thing for our community," Truitt told the council.
Mayor Angulo, Fleisher and the council asked for Jacobs' resignation and alleged in a statement (full statement below) last week that Jacobs' remarks were "racially offensive" and "do not represent our community's values." However, no context was provided: Neither Jacobs' remarks nor the meeting video was posted with the council statement.
While some residents agreed with the resignation, others were outraged and said on the two Cherry Hill Facebook pages that they saw nothing wrong with the remarks. Many cited the decades of service to the community by Jacobs, who has lived in the Point of Woods neighborhood for more than 40 years.
By Monday evening, one Facebook group had 373 comments on the post about Jacobs and the other group had 325 comments on two posts.
» MORE: Carolyn Jacobs' resignation and transcript of what she said.
» MORE: "What's up in Cherry Hill" Facebook page.
» MORE: "Cherry Hill United" Facebook page.
What Jacobs said
At the June 8 meeting, recorded by Zoom, Jacobs discussed many of the events in the news, and how much it upset her. She talked in detail about racial and social justice and a desire to help improve community and police relations and relations throughout the town.
"I also cried this past week for my beloved city of Philadelphia and with disdain for those people who took advantage of the situation to loot and to pillage, including in their own neighborhoods," she said in the meeting video. "At the risk of being a little bit crass, I think, you know even animals know that they don't mess their own dens. And so to those people who were subject to the looting and the pillaging and the wanton destruction I'm hoping that what they now do is turn themselves around and start to help to rebuild those neighborhoods." 
Response by Mayor Angulo and council
"Councilwoman Carolyn Jacobs used language that was racially offensive in her remarks. Jacobs' comments do not represent our community's values. The mayor and the Township Council therefore asked for and received Jacobs' resignation from council," according to the statement issued last week from Mayor Susan Shin Angulo, Council President David Fleisher and the council.
Jacobs' statement after resignation
"At the Cherry Hill Township Council Meeting on June 8, during the time allotted to comments of Council, I, most unfortunately, made a remark that was racially insensitive and it has cost me great personal anguish as well as my position as an elected Councilwoman. I am profoundly sorry to have offended anyone. I sorely regret my words as well as the harm it may have caused in the community. I fervently hope that what I said in that moment has not permanently tarnished the years of service I've given to Cherry Hill as a member of the Planning Board and the Council, hope that my verbal offense can be forgiven, and pray that the residents of Cherry Hill trust in the sincerity of my apology," Jacobs said in her statement.