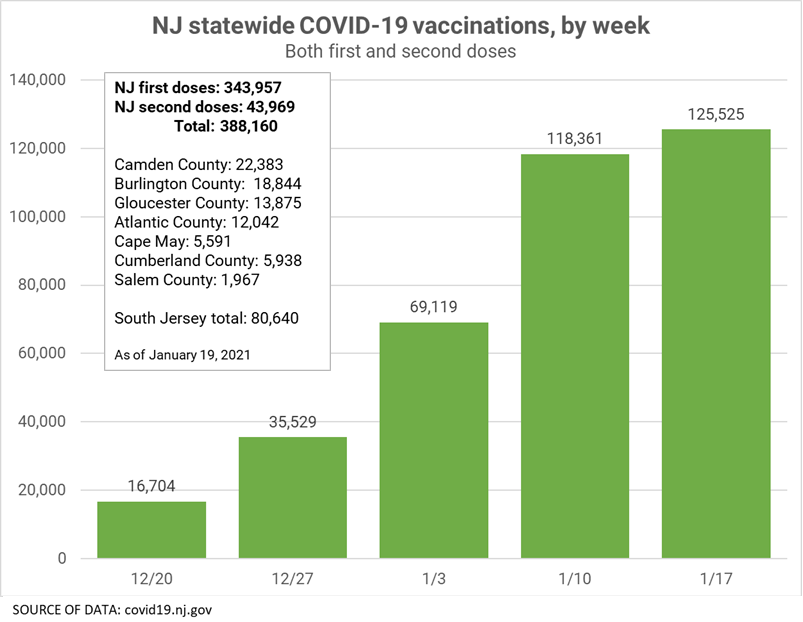 A vaccine call center staffed by live agents to help residents with appointments for their COVID-19 vaccinations is being set up this week by the state, New Jersey Health Commissioner Judith Persichilli said Tuesday.
The center, run by a vendor, will have workers — all New Jersey residents — taking calls beginning next week, Persichilli said. It will be open from 8 a.m. to 8 p.m. The number is 855-568-0545 and, until it is staffed, callers can go through several interactive steps with recorded information about registering.
"It may be some time before you receive an invitation to make an appointment," Persichilli said.
New Jersey last Thursday opened vaccinations to people 65 and older and those 16 and older with high-risk medication conditions, including smokers and the obese. This group previously had to wait until health care workers and essential employees were vaccinated.
Many residents have been frustrated in their efforts to schedule appointments, with some reporting on social media the earliest they could get a spot was in April or later.
One reporter asked Gov. Phil Murphy if he had second thoughts about expanding the eligible group. "I don't regret at all opening up," Murphy said. Pennsylvania on Tuesday announced it also was immediately expanding to the same larger populations.
The state's report on vaccinations Tuesday afternoon showed that 343,957 first doses and 43,969 second doses have been administered.
The health commissioner said those who register at the state site (covid19.nj.gov/pages/vaccine) will be contacted as appointments become available.
However, she said, some vaccination sites, such as those affiliated with hospital systems, take appointments separately from the state site. In the last week, many have scheduled appointments directly on the local hospital sites. A list of the sites is available on the state vaccine website. 
What it's like to visit a vaccination center
Last Friday, the vaccination process at Camden County College in Blackwood was well-organized and smooth. Security officers directed visitors to the clinic's parking area. The visitor's name is checked against a list of appointments before the person can park.
Floor decals and signs throughout the site mark where people should stand to ensure social distancing. After the initial check-in, the visitor is sent to a large room filled with vaccination stations.
Before moving on to the inoculation step, the person must schedule a second visit with a worker who consults open slots on a computer. The visitor gets two cards: one a second-visit reminder card with a date and a time, and the other a COVID-19 vaccination record card, with the maker of the vaccine and the lot number recorded by the worker.
Only then does the person move into the vaccination station and get the shot, a process that lasts only seconds. After inquiring about allergies to medications, the visitor is sent to sit in a waiting area — with chairs set far apart — to be monitored for after-effects. A timer on the back of each chair lets the staff know when the visitor can be released.