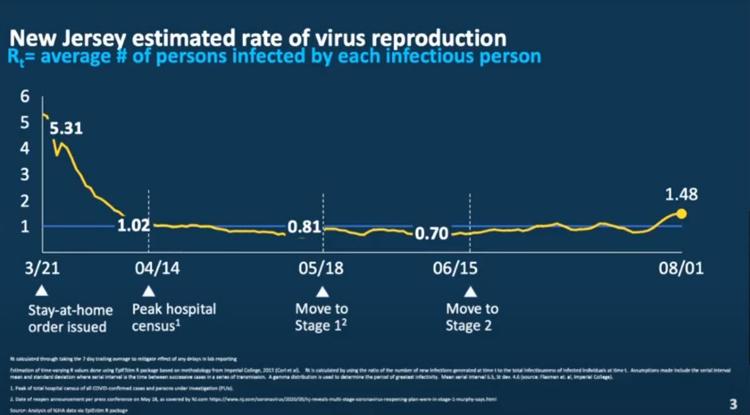 Large indoor house parties and restaurants ignoring indoor dining rules were targeted by Gov. Phil Murphy at Monday's COVID-19 state briefing.
Meanwhile, the governor also said this fall the state would require face coverings for students wherever they are inside school buildings except when eating and drinking. Previously, the state strongly recommended face coverings but required them only in hallways. "We have much to think about over the coming weeks," Murphy said.
Murphy was apologetic for the crackdown on gatherings, saying most state residents are doing their part. "The action of a few knuckleheads leaves us no other course," Murphy said.
The state had permitted indoor gatherings of 100 people or 25% of capacity. "This tightening caps indoor house parties at 25 people. Period," Murphy said. The stricter rules do not apply to weddings, funerals, memorial services or religious or political activities protected under the First Amendment, he added.
Although some COVID-19 statistical indicators have come down, the infection rate has grown sharply. The rate for August 1 was 1.48, meaning, on average, an infected person infects 1.48 people. The state has tried to keep the rate under 1 and a month ago it stood at 0.87.
Murphy also said some restaurants were backsliding. "We are seeing some restaurants which are attempting to serve patrons indoors by merely opening their street-front windows. To be clear, this is not allowed," Murphy said at the briefing.
Restaurants must open two out of four walls to be able to serve diners, he said. 
"I fully understand the hardships our restaurant industry faces among other industries but we cannot move forward if a few knuckleheads think the rules do not apply to them or they think they can be cute and skate by with a wink and a nod," the governor said.
Two restaurants were cited over the weekend. A North Arlington restaurant owner thought it was okay to have patrons inside as long as customers were sitting by windows and in Edison the owner of a restaurant had more than 100 patrons with no face coverings and no social distancing and a self-serve buffet.