You're joined by a tough critic when your Pho dining partner came from Vietnam, grew up with her mother's gourmet Vietnamese cooking and worked in her uncle's Vietnamese restaurant in the Dallas area serving the hearty soup dish.
But, after a Mystery Muncher lunch Monday at Pho Barclay on Route 70 in Cherry Hill, our Vietnamese food lover looked up and pronounced: I've found my place.
Pho Barclay, in the Barclay Farms Shopping Center, was opened in 2009 by Jim Ong and his sister Anita. Jim immigrated to the U.S. in the 1980s and graduated from Vineland High School and the Art Institute of Philadelphia and spent time as a commercial photographer before deciding to become a restaurateur, according to Pho Barclay's website.
If you've read Mystery Muncher before, you know it's not about reviewing restaurant meals in the traditional way. But we are restaurant consumers like you and enjoy sharing that point of view with 70and73 readers.
---
If you have suggestions for Mystery Munching, email contactus@70and73.com. We dine incognito and always pay for our own meals. Restaurants that make it to the Mystery Muncher series are ones we would recommend to friends.
---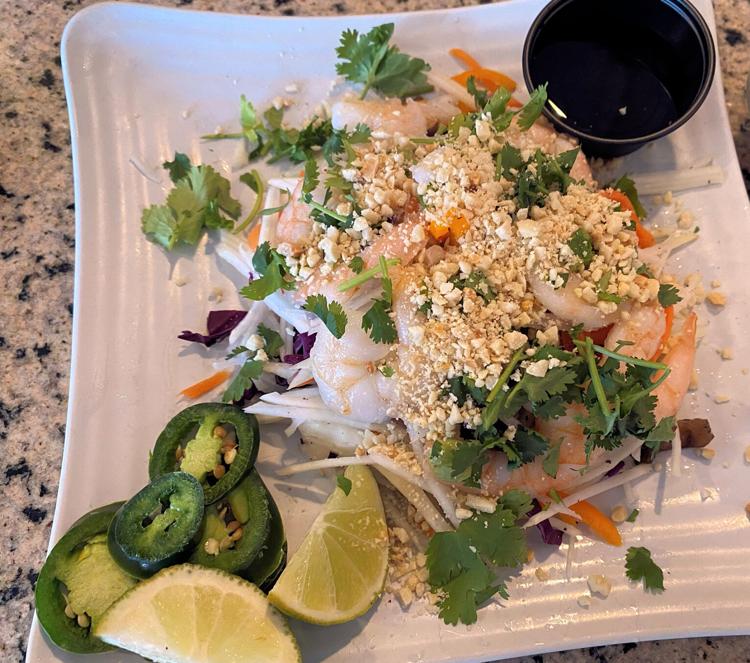 Monday lunch was a slow one when we dined at Pho Barclay. One other diner was finishing up as we arrived and we ended up dining in solitude, although some customers popped in to pick up takeout orders.
Jim Ong served us and introduced himself as the owner. We believe our anonymity held and Ong didn't realize it was a visit from the Mystery Muncher.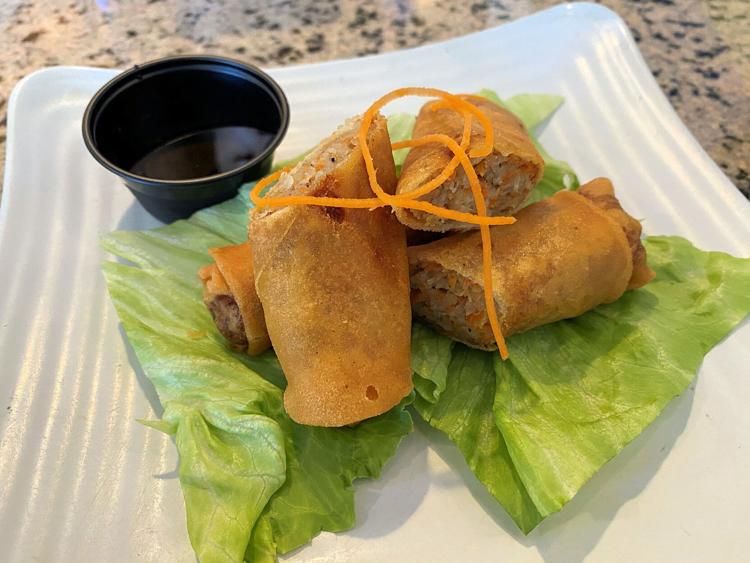 Muncher's partner started with the Papaya Salad with Shrimp and, it seemed, every other mouthful produced a positive review. If one dish made the biggest hit, the Papaya Salad ($10.25) was it.
The Chicken Spring Rolls ($4.95) attracted Muncher, who enjoys those prepared by his Muncher partner or her mother. And the rolls did not disappoint — crispy, but not too much, and tasty.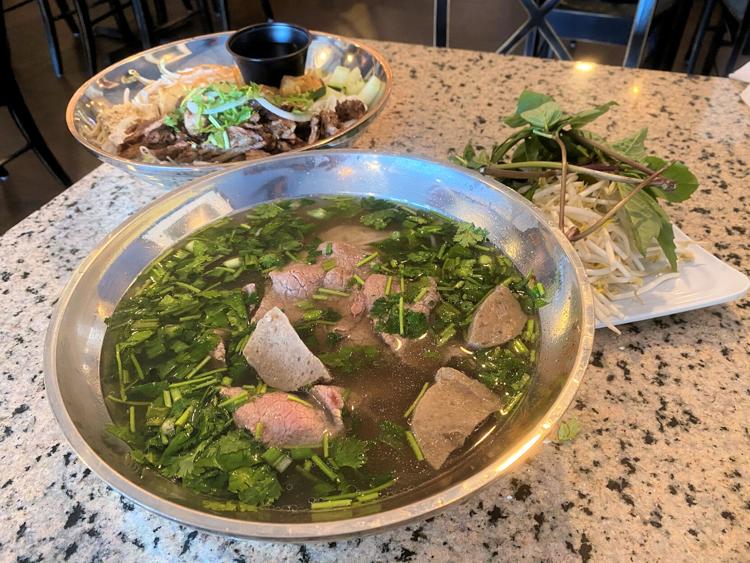 If you dine at a Pho restaurant, someone has to try the Pho, right? Mystery Muncher ordered the Steak and Beef Meatball Pho ($10.25) and worked hard to finish the noodle- and meat-packed soup. The broth wasn't overly salty like some Pho restaurants. Bean sprouts and fresh basil, offered on the side, added to the flavor. This was a "have again."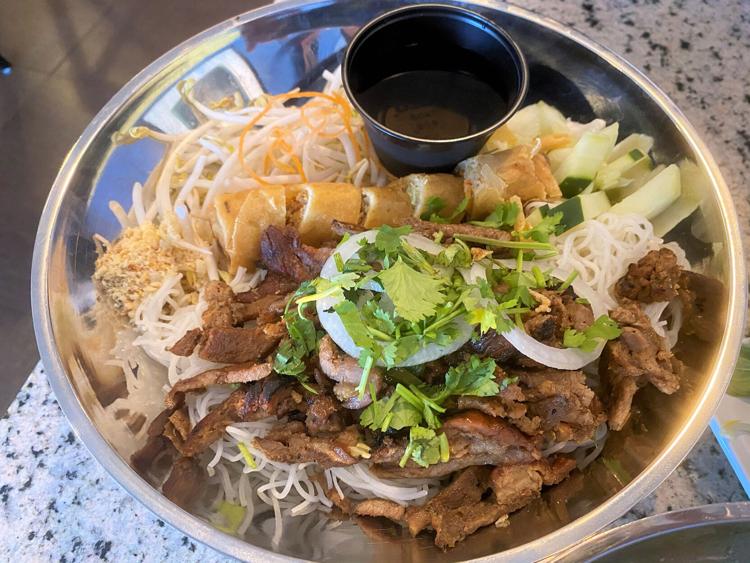 Muncher's partner selected the Vermicelli Noodle Bowl with Grilled Pork and Spring Roll ($9.50) and it brought almost as many accolades as the Papaya Salad. Each dish was large with plenty of veggies and protein. And the taste, according to Muncher's partner, was just right (she raved about the grilled pork).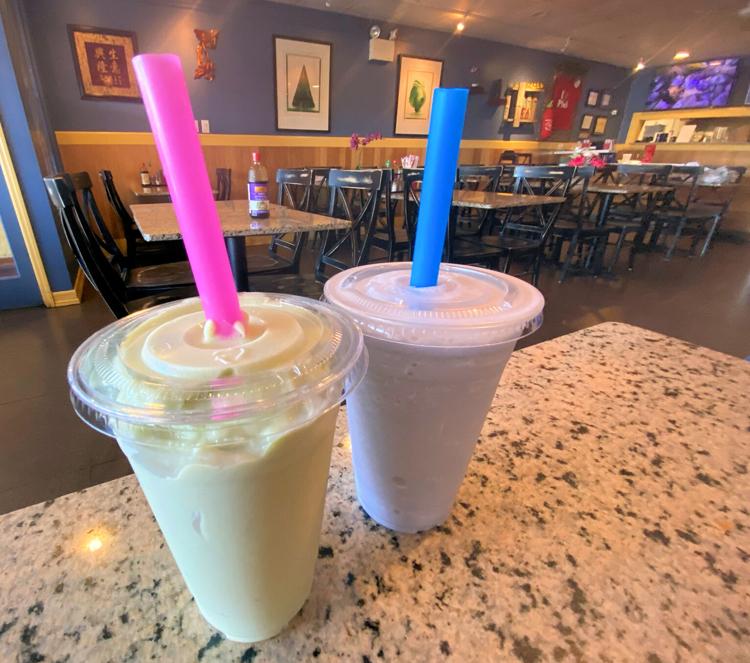 When you're doing your own Pho Barclay exploration, start with the restaurant's website. It was one of the most informative and easy-to-navigate ones we've seen for an eating place. Nice touches include a short section on "What Is Vietnamese Food?" as well as customer favorites and photo gallery.
The online menu has an explanation of each type of dish with photos.
Consider the Vietnamese sandwich. Pho Barclay offers Banh Mi (bread) with chicken or pork ($9.25) or with grilled meatballs or beef ($9.50). The menu explains, for the uninitiated: "All sandwiches served on a fresh toasted hoagie roll topped with mayo and homemade sweet ginger sauce, fresh cilantro, cucumber, jalapeño slices and pickled carrots."
If your appetite — or desire for take-home leftovers — is vast, diving deeply into the appetizers is called for. We've already given both thumbs up for the Chicken Spring Rolls, based on our lunch.
But, on our return, a couple of the tempting appetizers on the menu include Grilled Beef in Grape Leaves ($6.75; "Ground beef marinated with lemongrass, garlic and onion wrapped in grape leaves and then grilled to perfection") and Vietnamese Crepes (Banh Xeo) with Saigon Skewers ($6.75; "Soft Vietnamese crepe filled with your choice of grilled chicken, beef or pork and bean sprouts, lettuce and cucumbers served with our original sweet ginger sauce").
The online menu has seven vegetarian dishes, including Veggie Pho, with either veggie or chicken broth ($9.50), and Vermicelli with Tofu and Lemongrass ($10.25). 
Five Pho dishes are on the children's menu (12 and under), with all costing $5.49 except the Steak Pho, which is $6.49.
---
The basics

Hours: Monday, Wednesday, Thursday and Sunday, 11 a.m. to 9 p.m.; Friday and Saturday, 11 a.m. to 9:30 p.m.; closed Tuesday.
Address: 1049 Route 70 East, Cherry Hill, in the Barclay Farms Shopping Center.
Telephone: (856) 216-8050
Website menu: phobarclay.com
Facebook: facebook.com/phobarclay/
Order takeout online: Yes