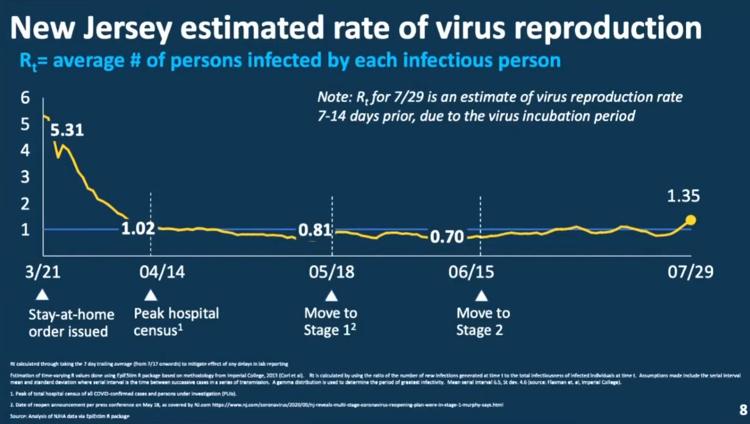 Whether in New Jersey or Camden County or Burlington County — the news hasn't been good this week about battling the spread of COVID-19 infections.
"The numbers are setting off alarms that we take very seriously. We still may be among the leaders (among states) in having the lower case numbers and daily positivity rates...but we are standing at a very dangerous place," Gov. Phil Murphy said at the state coronavirus briefing on Friday.
» MORE: New Jersey data on COVID-19.
The rate of transmission of the virus in New Jersey reached 1.35 this week, meaning that, on average, one infected person infects 1.35 people. The goal has been to keep that rate under 1. "Increases in new cases we have seen over the past week has pushed the statewide rate of transmission to 1.35. And given the recent data on cases we anticipate, unfortunately, that it will go higher in the days ahead," Murphy said.
"The only way to silence these alarms and get back to the process of moving forward is for everyone to take them seriously. Not just most of you, but all of you, all of us. We are not past this. Everyone who walks around refusing to wear a mask or who hosts an indoor house party or who overstuffs a boat is directly contributing to these increases," Murphy said.
A greater spread of the infection comes as school districts in New Jersey are unveiling their plans for reopening school buildings for students in the fall.
"The coronavirus remains still active and we have started to see an uptick in daily new cases, particularly among teenagers and young adults," Burlington County Health Director Dr. Herb Conaway said in a Friday afternoon statement.
Conaway's concerns come a day after Camden County Freeholder Director Louis Cappelli Jr. pointed to an increasing number of infections in his county, urging residents to take precautions such as wearing masks.
The Burlington County health director said in his statement: "During the last two weeks the daily average of new COVID-19 cases in the county has increased from around 15 new cases a day to about 35 new cases each day this week. While this uptick is certainly cause for concern, we also believe that common-sense measures and adherence to the state's social-distancing rules and guidance can contain the spread."
In Burlington County, the number of new infections announced July 27 totaled 63, the highest one-day number since 97 were announced on May 30. Infections announced Friday, however, were a relatively low 16. Camden County on Friday announced 42 new confirmed cases.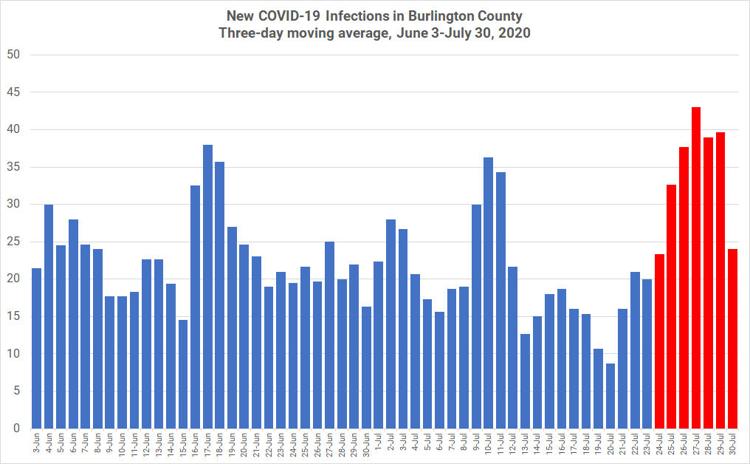 New infections in Burlington County announced in recent weeks
| Date | New Infections Announced |
| --- | --- |
| 7/10 | 39 |
| 7/11 | 18 |
| 7/12 | 8 |
| 7/13 | 12 |
| 7/14 | 25 |
| 7/15 | 17 |
| 7/16 | 14 |
| Average: | 19 |
| 7/17 | 17 |
| 7/18 | 15 |
| 7/19 | 0 |
| 7/20 | 11 |
| 7/21 | 37 |
| 7/22 | 15 |
| 7/23 | 8 |
| Average: | 15 |
| 7/24 | 47 |
| 7/25 | 43 |
| 7/26 | 23 |
| 7/27 | 63 |
| 7/28 | 31 |
| 7/29 | 25 |
| 7/30 | 16 |
| Average: | 35 |
New infections in Camden County announced in recent weeks
| Date | New infections announced |
| --- | --- |
| 7/17 | 26 |
| 7/18 | 29 |
| 7/19 | 5 |
| 7/20 | 0 |
| 7/21 | 55 |
| 7/22 | 29 |
| 7/23 | 36 |
| 7/24 | 32 |
| 7/25 | 54 |
| 7/26 | 88 |
| 7/27 | 33 |
| 7/28 | 27 |
| 7/29 | 56 |
| 7/30 | 38 |
| 7/31 | 42 |