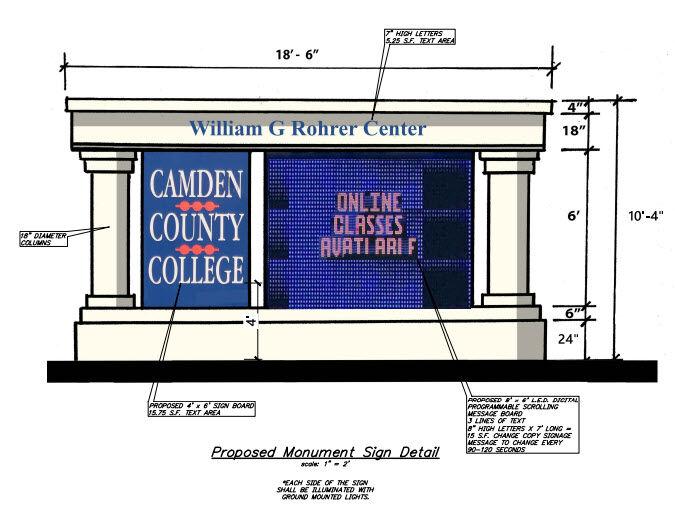 Camden County College, which wants to raise the profile of its William G. Rohrer Center in Cherry Hill, got the Cherry Hill Planning Board's blessing for two large monument signs with changing LED messages Tuesday night.
Because the college is a county entity and not within the jurisdiction of the board, the proposal was presented to the board for a "courtesy review." The board voted 6-0 to accept the plan. No one from the public commented.
The Rohrer Center opened in 2000 at Route 70 and Springdale Road for students taking coursework toward degrees or certificates. The center also sponsors events.
David Bruno, director of the Rohrer Center, said the college wants a higher profile with Cherry Hill residents and a first step would be to improve the visibility of the location. Some residents have told the college they "did not even know that the college existed at that location," Bruno told the board.
Existing sign structures at the driveways are six feet wide and seven feet tall and are internally illuminated. College representatives said many drivers miss the center's driveways, particularly the one on Route 70.
The two new signs and monuments, as proposed, would be 18½ feet wide and 10 feet, four inches, tall. Columns 18 inches in diameter would balance each side of the sign monuments. One would be near the Route 70 driveway into the college parking lot and the other would be near the Springdale Road driveway.
Gregory B. Fusco, president of Key Engineers Inc. of Berlin and representing the college, told the board that the LED sign board would not glow or be animated like a television screen. He said messages would be in letters eight inches high and a maximum of seven feet long. Only college messages and not private advertising would appear, he said.
Fusco said drivers wait at the intersection's traffic light for an estimated 40 seconds when it is red. The college wants to display as many as three to four messages in that time. He said the messages would not flash. The sign also will be on 24 hours a day, even though Cherry Hill's ordinance says such signs need to be turned off when a business is closed.
Board members Marlyn Kalitan and Alise Panitch, worried the signs might be a distraction for drivers, questioned the college representatives about the LED messages.
Ronald Tomasello, communications director for Camden County College, said messages would be simple and concise, such as saying registration is open or financial aid is available. 
"We're just looking to get word out to the public," Tomasello said.