The Cherry Hill school district wants to do something it has not done in 22 years: Persuade voters to approve borrowing hundreds of millions of dollars to move its deteriorating school buildings out of the 1950s and 1960s.
District officials, board of education members and staff and student representatives on Monday night hosted the first of two "Town Hall" meetings detailing the conditions of the buildings and showing what could be done with the estimated $396,330,232 for renovations, HVAC and electrical upgrades and roof work.
The last district bond issue that was approved was in 1999, and a bond referendum was defeated by voters in 2018. A new referendum's special election would be held late next year.
An amount for a proposed 2022 bond issue has yet to be set. The $396 million total reflects what it would cost to undertake all of the needed renovations. Some residents on Monday night called for the district to prioritize the spending.
At stake, board members and others said, is a nationally recognized school district that attracts homebuyers looking for a high-quality education for their children. Board members and residents commenting said home prices are tied to the success of the school district. The condition of buildings also can be a factor in recruiting the best teachers, they said.
"This is the Holy Grail of this town," said board member Ben Ovadia, who told those at the meeting that the health of the town is connected to the health of the school district.
Robert N. Garrison Jr. of Garrison Architects, the district's Bellmawr-based architect who has led dozens of bond issues for other districts, said debt-free Cherry Hill is leaving money on the table by not borrowing because the state will fund 40% of the eligible capital costs that are borrowed. 
Garrison emphasized the answer to the deterioration is not constructing new buildings, but renovating existing ones. State funding penalizes new construction, he said, because it bases funding on a $143-per-square-foot, new-construction formula when the actual cost ranges from $350 to $400 a square foot.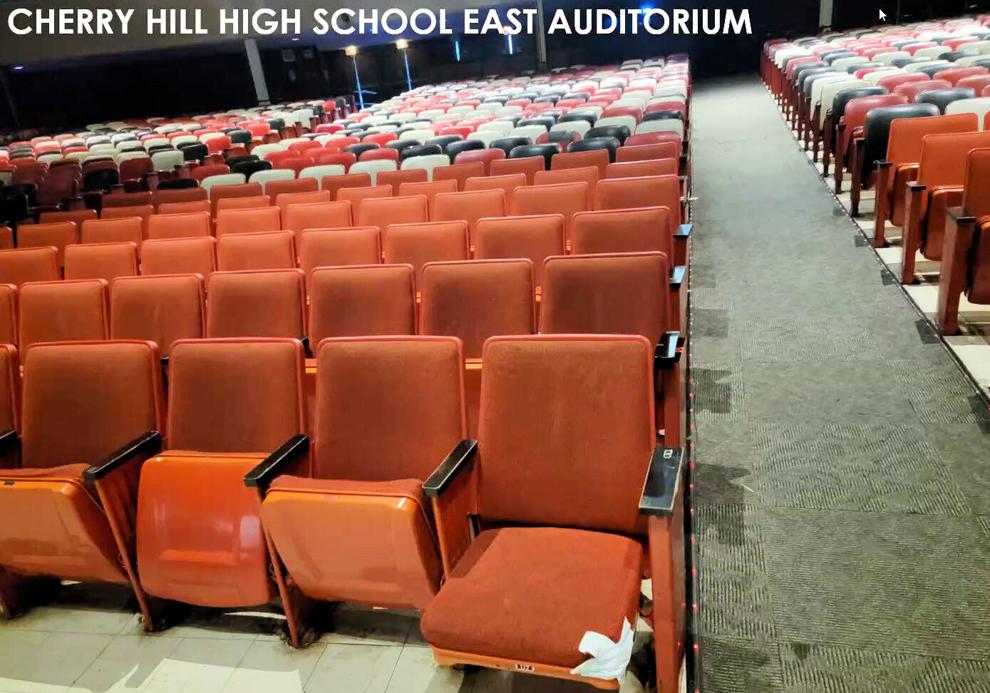 Most Cherry Hill school buildings were constructed in the 1960s as the town's population exploded from the post-World War II baby boom, although some were built in the 1950s. Kingston Elementary opened in 1955. Henry C. Beck Middle School and James F. Cooper Elementary opened in 1970. Cherry Hill High School West's first students arrived in 1956 and Cherry Hill High School East's in 1967.
Much of the spending would repair years of wear and tear on the buildings, but some renovation would accommodate the differences between students of the 21st century and those of the 1950s and 1960s, Garrison explained.
For example, today's students are armed with technology, such as laptops, and the portable computers need to be kept charged. Convenience power outlets are necessary in today's classrooms, the architect said. He also showed a photo of a narrow East High School hallway, where students in the "bottleneck" jam the space because so many today have backpacks.
The COVID-19 pandemic also focused attention on underpowered school heating and cooling systems across the nation. HVAC improvements account for more than $80 million in spending, about 20% of the overall plan.
Besides HVAC, the breakdown:
Interior renovations, $101,764,106
New construction, $48,523,751
Exterior renovations, $47,143,750
Electrical construction, $37,965,803
Site work, $35,496,634
Roof work, $33,318,057
Main entrance renovations, $4,530,000
Athletic facilities, $3,375,000
Main entrance new construction, $2,735,000
Plumbing construction, $1,312,500
The task of Garrison and the school district goes beyond persuading parents of students that borrowing is essential. In school bond referendums, the taxpayer with no children in a school system is the key target to be persuaded.
In 2018, Cherry Hill voters defeated three parts of a district bond proposal totaling $210.7 million and adding $307 a year to the property tax bill of a home with an average assessment.
The district presentation Monday night at High School West and a December 15 "Town Hall" presentation at High School East outline the spending plan and invite input from residents.
But they will not be the only information sessions. District officials said they will also present directly to senior citizen groups in the community — a potentially negative voting bloc that in many communities focuses on the property tax increases and turns out to defeat spending proposals.
Some of the residents who spoke Monday night emphasized the need for transparency and clarity in presenting the bond proposal to different community groups.
"I do think the transparency of this bond is 150% better than the last bond," resident Stefani Graff said at Monday night's session.  
Resident Beth Becker told the district that it should prioritize the spending to identify what is most needed at each building. She urged the district to find research that shows how local home values are affected by the quality of the school district.
Lauren Greenberg said a bond referendum outreach should aim at families with the youngest children and not just parents who already have children in the schools.
"Those are the ones that are going to be really affected for years to come and I think it's so important to be able to get their buy-in on that," Greenberg said. 
She said the district must publicize the referendum through day care providers and pre-schools. "I've been talking with a lot of people in my neighborhood, particularly families that have moved in with very young kids. And they don't know anything about this," Greenberg said.
Board President Laurie Neary responded: "This is exactly why we're here tonight."
She said the board was just beginning the process of listening to the community to understand what it would like to see.
"Once the bond is formulated, we will put together more of a plan of making sure we are hitting so many different community groups," she told Greenberg. 
"Schools are the heart of our community," Neary said. "They are the reason that people move here and that people want to pay the taxes we all pay for our homes so that we have great schools. We certainly have a great education here. Our schools are tired."
---