At times, Walter Papeika will get a hankering for a hike, and will ask his father to join him on the Cherry Hill trails.
Of course, the 4-year-old also knows that family habit dictates that a side trip to a nearby playground is a part of the deal.
Walter's dad, John Papeika, says family favorites are the Old Orchard trails in his neighborhood and the Barclay Farmstead trails — each of which has a playground.
Papeika, who also has a 1-year-old son, says he hits the trails "not as often as I would like." But he says the neighborhood trails in Cherry Hill's system mean that a great walk in town is "not something we're lacking in."
The Acme Markets retail safety and regulatory compliance manager moved to Cherry Hill 11 years ago and it took him three years to discover the trail system, and only because he was walking his dog on Thornhill Road and saw the trailhead sign.
"A lot of people don't know they exist," he told 70and73.com.
Cherry Hill's trails are emerging as stars in 70and73.com's quest for "Great Walks" in South Jersey — an exploration of what residents themselves say are their most-prized walks and hikes. Dozens of nominations have streamed in, but we're looking for more. Make a nomination at contactus@70and73.com.

"It really started as a look at the open space program," Lew Gorman III, chair of Cherry Hill's Environmental Board, recalled of the launch of the Township's trails program. "We wanted to connect people with nature."
A resolution from Township Council in 2009 kicked off the program and now 12 trails are scattered across Cherry Hill's 24 square miles. Green vistas, nature and solitude stand out in a sprawling town where many have a vision of only congestion on Routes 70 and 38 and high-density housing.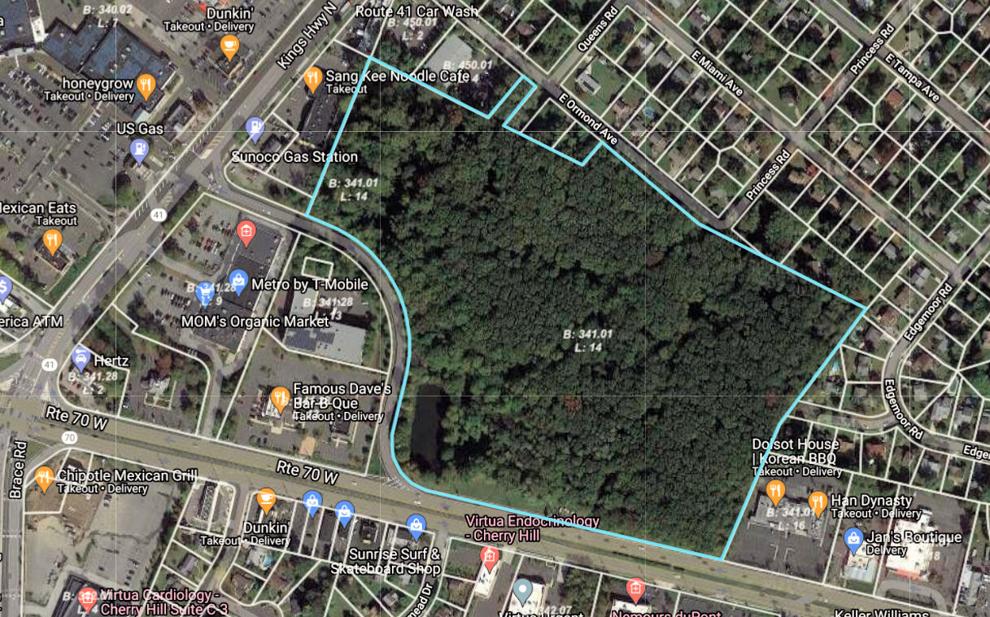 Gorman, a 39-year resident of the town who lives in the Cherry Valley section, remains on the look-out for other trails to add to Cherry Hill's dozen. High on Gorman's list is a 12-acre parcel the town owns near the intersection of Route 70 and Kings Highway. The heavily wooded lot fronts westbound Route 70 and the Kings Highway jughandle. The trail might be added this year.
"The trails would not be what they are if we did not have such a great volunteer base," said Township Recreation Director Megan Brown. She told 70and73.com that maintaining the trail system requires little effort and few tax dollars on the Township's end.
Brown said the Public Works Department might help clear large trees on the trails or deliver mulch. But people giving their time to the trail system keeps trails accessible and a place for a walk or hike.
National Trails Day is June 5 and has been developed by the American Hiking Society as "a day of service and advocacy for hometown trails." Trails are cleaned, trash removed and invasive species plucked by volunteers in the program. Brown said Cherry Hill is planning a community event on National Trails Day.
One longtime volunteer has been Jay Jones, a Wexford Leas resident who moved to Cherry Hill about 10 years ago. "There's lots of opportunity for people to go out and get away from the stress," Jones told 70and73.com.
The retired executive director of the South Jersey Port Corp. who now is operations director of the Battleship New Jersey, is an avid mountain biker and has hit many of the trails in the region.
"Go out and smell and feel a little bit of nature," Jones advised. In suburbs like Cherry Hill, "we seem to want to asphalt everything and build stuff," he said. But it's also important to set aside open space for residents, he added.
Jones said mountain bikers got a boost from retailer REI when two bike-repair stations were installed with a pump and bike stand with multiple tools on cables. He said there's enough there even if you need to replace a tire tube while on a ride. The repair spots are on the Croft Farm and Kresson trails.
» MORE: Maps and information on Cherry Hill trails.
Environmental Commission head Gorman said many of the trails have their own gems. Cherry Valley and Bunker Hill trails have pollinator gardens with plants native to New Jersey to attract bees, butterflies and birds. In Cherry Valley, a Monarch butterfly "way station" has been established with milkweed so the butterflies can lay their eggs, Gorman said.
Bird watchers also frequent Cherry Hill's trails, Gorman said. One avid birder in Cherry Valley walks about a half-mile on the Cherry Valley trail and has identified 60 species in the Spring and Fall migrations, he said. A dead Beech tree on the Croft Farm Nature Trail has been a nesting spot for the Pileated woodpecker, which Gorman said is noisy both in its call as well as when banging away on a branch.
Gorman, who retired three years ago from the U.S. Fish and Wildlife Service as a wildlife biologist, had no estimate on the number of people who walk the Cherry Hill trails in a year.
But the isolation of the pandemic has made the trails popular.
"Use has increased dramatically in the last year," Gorman said.
---
From the Cherry Hill Trails website:
Join the Cherry Hill Trail Crew
Do you enjoy the outdoors, want to enhance and preserve our open spaces, learn new skills and get fit? Announcing the Cherry Hill Trail Crew! The Cherry Hill Trail Crew is a volunteer program of the Cherry Hill Township Environmental Board and is comprised of volunteers who have the principal responsibility of performing trail maintenance on all of the township's trails and to promote conservation. Regular Trail Crew sessions will be held the second Saturday of each month from 8 a.m. – noon. Additional sessions will be scheduled on an as-needed basis. If you would like to join the Trail Crew, contact Jay Jones at 856-470-8967 or via email.
---