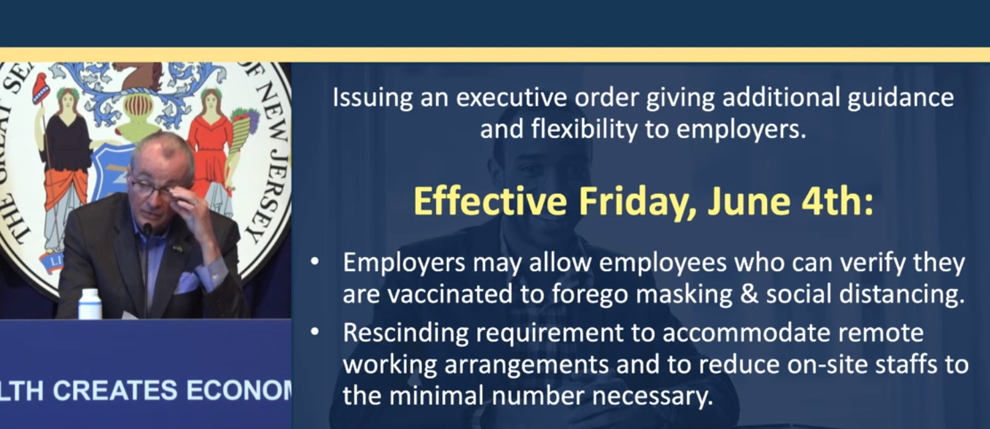 A move to near normalcy in New Jersey's indoor, private workplaces was made Wednesday when Gov. Phil Murphy announced that employers beginning June 4 can allow vaccinated workers to remove their masks and no longer need to observe social distancing.
"While all workplace health and safety protocols apply to indoor worksites closed to the public, employers will be able to allow employees who can verify that they are vaccinated the ability to forego wearing a mask and social distancing," Murphy said at the state's COVID-19 briefing. "We've heard this from a number of different businesses including and especially those that operate in multiple states and multiple jurisdictions."
Employers no longer need to accommodate workers with remote working arrangements or reduce the sizes of their on-site staffs, Murphy said. However, he called on companies to be flexible as workers try to arrange child-care requirements. 
"We are doing this to allow employers greater flexibility to bring employees back into in-person working environments," Murphy said.
Michele N. Siekerka, president and CEO of the New Jersey Business & Industry Association, told 70and73.com that she believes some businesses and retailers in the state will continue to require masks and require social distancing, even though the state does not require the practice.
"One reason may be because we do not have liability protection legislation in New Jersey and some may feel that the more they mitigate, the better a defense to any claim about contracting COVID in the workplace they may have," Siekerka said in an email message.
Businesses can make masking a requirement or their workforces may ask them to do so, she said. Some supermarkets will require employees to be masked to be protected and, in some cases, businesses might also require outsiders to wear masks when visiting, Siekerka said.
Christina M. Renna, president and CEO of the Chamber of Commerce Southern New Jersey, said she expects few businesses will require a mask, but some will make masking voluntary or encourage the practice. If the employee is vaccinated, many won't require a mask at all, Renna told 70and73.com.
Gov. Murphy said state offices will continue to require masks and social distancing, Murphy said.
A total of 4,134,624 people in New Jersey have been fully vaccinated. While the total now includes some under 18, it is equivalent to about 6 out of 10 adults 18 and older in the state. Murphy's goal has been to fully vaccinate 4.7 million adults by the end of June.
The governor also announced that, effective immediately, child-care providers now can open their doors to their total licensed maximum number of children. That total was restricted to 15 during the pandemic.
As he has urged recently, the governor said no one should be discriminated against for choosing to wear a mask anywhere.
"There should never be any stigma against any co-worker who may be fully vaccinated but chooses just to be safe to wear a mask. That's still okay anywhere, anytime," he said.