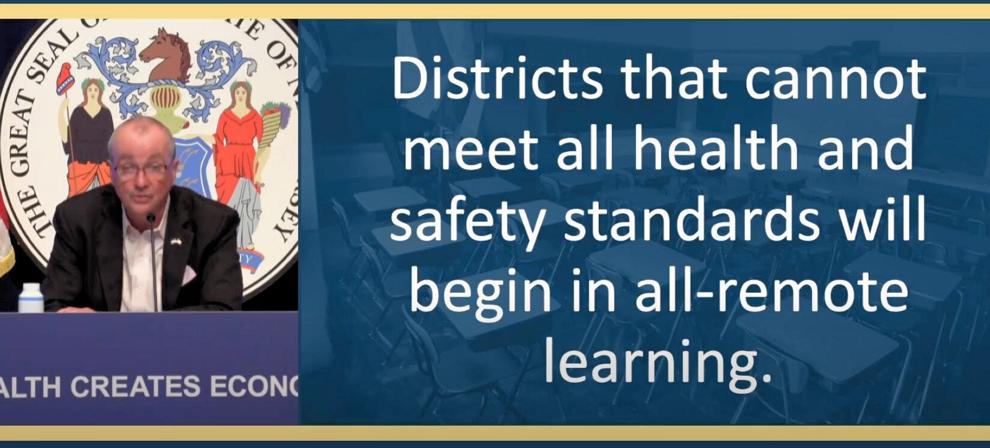 Gov. Phil Murphy on Wednesday afternoon changed course on fall school openings, saying that some districts can offer just virtual-only classes if they cannot certify safe in-person instruction.
The state had required a combination of in-classroom and virtual learning, with parents making the choice. However, associations of teachers, school staffs, principals and other educators have urged the state not to return to in-person instruction for fear of spreading COVID-19.
» MORE: Growing numbers of educators, others urge NJ to ditch in-person classes in the fall.
Murphy said he will sign an executive order covering pre-kindergarten to grade 12 schools as well as colleges and universities. 
If a district cannot open with in-person instruction safely on day one it must offer virtual-only, he said.
"There is no one-size-fits-all plan to this very difficult situation," Murphy said. "Districts that cannot meet all health and safety standards will begin in all-remote learning."
In Cherry Hill — South Jersey's largest school district — about 9 out of 10 families have made their choices and 30% want full remote while 70% selected the hybrid option, according to the district.
"We are prepared to move to an all-remote learning model for all students and staff if necessary," Superintendent Joseph N. Meloche said in a letter on Wednesday to parents. However, Meloche wrote: "At this time, we have a solid plan for both a hybrid learning schedule — which includes in-person learning at school and remote learning — and an all-remote learning schedule."
Gov. Murphy said the Department of Education will review each school district's plan, as it did in March for the closing of school buildings. 
The DOE is just receiving the plans now, Kevin Dehmer, interim commissioner of the state Department of Education, said at the briefing. "Vast, vast majority are hybrid and there's a select number that have come in remote-only," he added.
Neely Hackett, superintendent of Willingboro schools, spoke at the briefing and said her district had developed a plan for in-person instruction two days a week for two different groups and that teachers would work four days a week in school buildings. Parents also could select five day all-virtual instruction from 8 a.m. to 1 p.m.
"While our goal remains to achieve in-person learning, our district determined that we were simply not ready to move forward with option one at this time," she said. On July 27, the Willingboro Board of Education voted to submit its plan to the state with a request for virtual-only instruction for the first marking period, from September 8 to November 18.
Although staff had worked hard to come up with the plan "there is still much work that needs to be done to ensure the safety of our students and staff," Hackett said. Current challenges include inadequate HVAC systems and ventilation, protective equipment on back-order and the lack of other supplies.
Parents on social media were split in their reaction to the latest announcement.
"Disappointing that the state didn't customize the plan for the different age groups. Needs of elementary school children differ dramatically from high school children. It should not be one size fits all considering needs and scientific data regarding spread and risk," one member of the Cherry Hill United Facebook group wrote.
Another parent in the same group wrote: "I do have a kindergartner this year and two middle schoolers. I do agreed with remote learning at least for the fall. I think their health and the health of others are more important. Many will not agree with me but this is what I believe is safer for the students, teachers and family members."