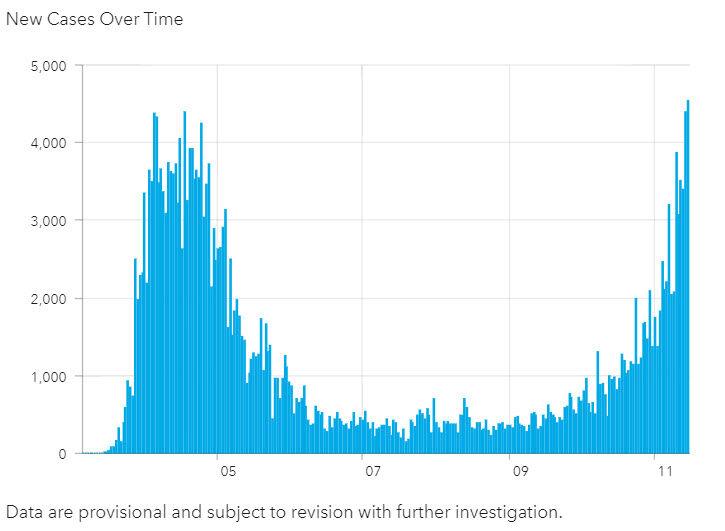 New Jersey Gov. Phil Murphy on Monday said he will reduce the permitted level for indoor gatherings to 10 people from 25 and cut outdoor gathering limits to 150 people from 500 to fight the spread of COVID-19.
The indoor limit was reduced with next week's Thanksgiving celebrations in mind.
"What we're doing today we know will cause some people to readjust their Thanksgiving plans and I understand why there might be frustration with this step," Murphy, a Democrat, said at his Monday noon COVID-19 briefing. "We've been saying for weeks that this will not be a normal Thanksgiving."
He added: "We're urging everybody to keep their Thanksgiving plans as small as possible because we know that indoor gatherings in homes are particulary dangerous places for COVID-19 to spread. The smaller the gathering is, the less likely it is that someone is infected."
On Sunday, the state reported 4,540 new COVID-19 cases, which is a pandemic record for the state. The Saturday report of 4,395 cases broke the previous record of 4,391 set on April 17.
In Camden County, the total number of new cases for the week ended November 15 was 1,710, up 58% from the week before. The record early in the pandemic was 775 cases reported for the week ended May 3. On Monday, Camden County reported 283 new cases Saturday, 269 new cases Sunday and 228 new cases Monday.
"With Thanksgiving on the horizon, it is critical that everyone understands what's driving this surge and what we can do to stop it," Freeholder Director Louis Cappelli Jr. said in a statement Monday afternoon. "The contact tracers at the Camden County Department of Health are continuing to find that small, indoor gatherings are among the primary ways this virus is spreading."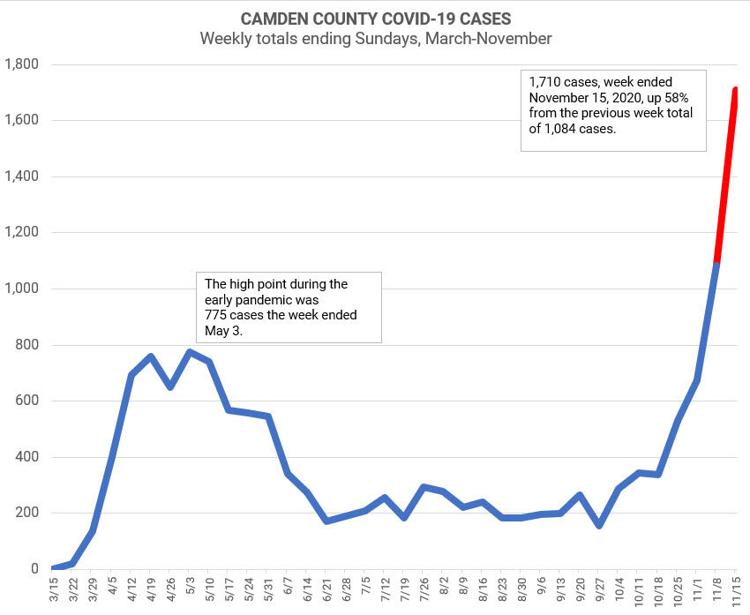 The state's indoor gathering limit goes into effect on Tuesday at 6 a.m. and the outdoor limit goes into effect next Monday. Exempted from the new indoor limits are religious services/celebrations, political events, weddings, funerals/memorial services and performances. They continue to be limited to 25% of a room's capacity, and a maximum of 150 people.
Murphy discussed cutbacks in sports and the impact on parents and fans. "I want to state very specifically hockey is in our crosshairs. I'm not sure why, but we are hearing more than anecdotal, more than here or there, a lot of non-compliance, including by parents....Watch yourselves."
» MORE: Visit the state's COVID-19 page for data, updates.
The cold weather and holiday get-togethers will increase the number of infections, Murphy said in an MSNBC interview early Monday morning.
"It's gotten worse and it's going to get worse," Murphy said. "Schools continue to be a bright spot for us. There's transmission, but it's much less than any of us could have feared and well within any expectations." 
Long-term care facilities, such as nursing homes, were hard-hit early in the pandemic and outbreaks now are growing.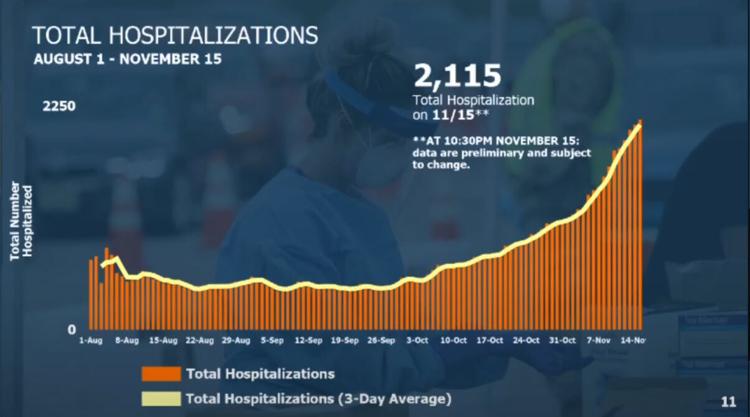 "Unfortunately, every day we're seeing more long-term care facilities with new active outbreaks," Dr. Christina Tan, the state epidemiologist, said at the briefing. The state on Monday reported active COVID-19 outbreaks at 241 facilities.
Sports continues to get close scrutiny, Murphy said Monday morning on Fox29's "Good Day Philadelphia."
"We're having a real challenge right now with sports," he said. "We think it's adjacent activities, not the sport itself, but the pizza party in the basement, the locker room. We're looking at that very carefully."
State Health Commissioner Judith Persichilli discussed several tips at the briefing to help prevent coronavirus infections on Thanksgiving. She said to open windows and set central air/heating on continuous ventilation to circulate the air. Provide guests with masks or hand sanitizers and avoid handshakes or hugs with those from outside the immediate household.
"Encourage guests to avoid singing or shouting, especially indoors," Persichilli advised. "Keep music levels down so people don't have to shout to speak loudly to be heard."
As he has in the past, Murphy emphasized COVID-19 and pandemic fatigue won't last forever. "We're talking about six months here, not six years, not six decades, not a lifetime," he said, pinning hopes on recently announced vaccines.