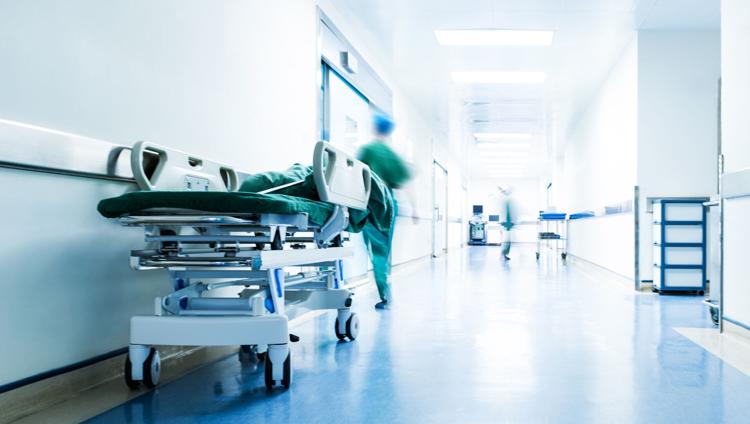 The number of COVID-19 hospitalizations in South Jersey reached a second-wave record of 917 on Sunday, according to state Health Department data.
Sunday's total hospitalizations for counties from Burlington south also is higher than any publicly available daily count since the pandemic began in March. The state's COVID-19 site lists no daily hospitalizations before April 28. An Open Public Records Act request by 70and73.com to the Health Department for earlier statistics has yet to be fulfilled.
An average of 802 patients were admitted each day to South Jersey hospitals in December — far higher than the daily averages of 496 in November and 196 in October (see chart below), according to a 70and73.com analysis of state data.
New Jersey Gov. Phil Murphy mentioned the crush of hospital patients in California at the state's COVID-19 briefing on Monday afternoon. "Thank God that is not happening here," Murphy said. CNN reported on New Year's Eve that California hospitals are stressed to the "brink of catastrophe."
But Murphy, a Democrat, still is cautious because the impact of social gatherings in New Jersey on Christmas and New Years has yet to be seen. It's "too early to declare victory or defeat," Murphy said.
"If I'm anxious about anything it's the 14-day incubation period, post-holiday, post-New Year's Eve," said New Jersey Health Commissioner Judith Persichilli. "We work with the collaborators (hospital systems), we're on the phone with them weekly, to prepare for a surge starting mid-January. We will be as prepared as we can be and we're hoping that it doesn't happen."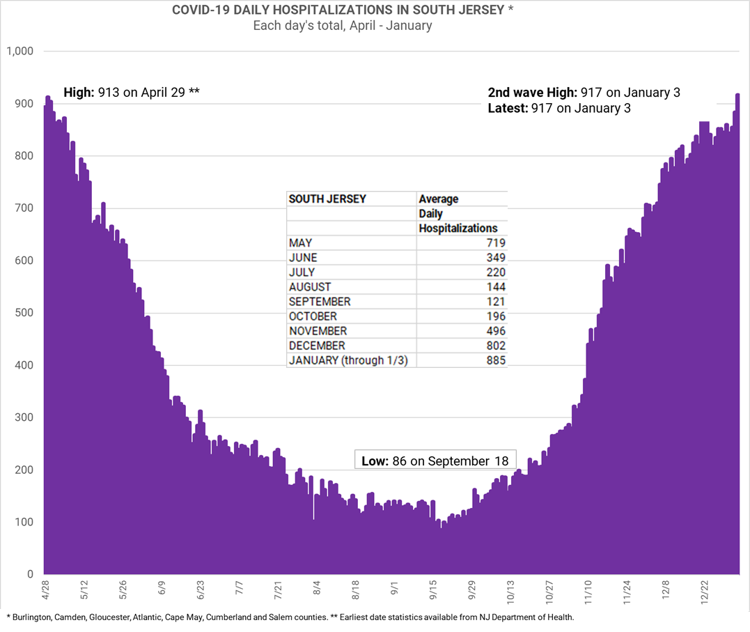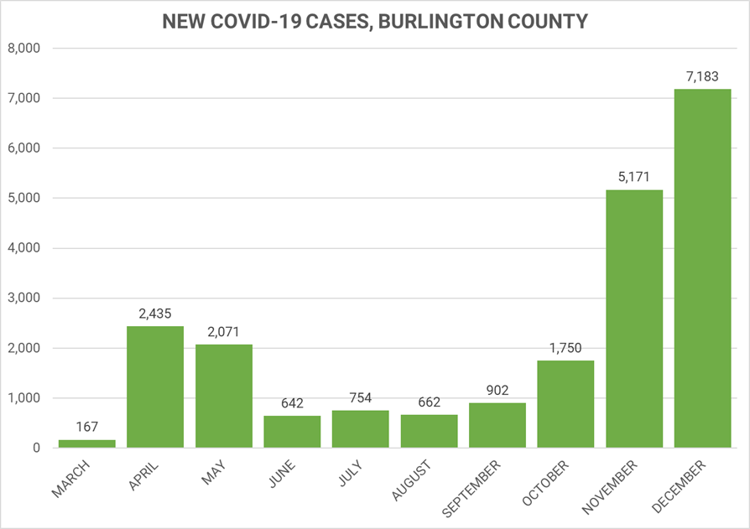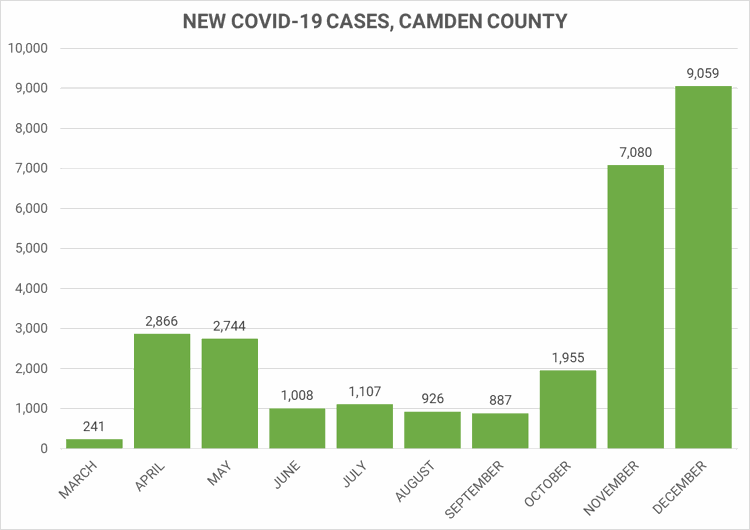 Burlington County COVID-19 cases in December by municipality
| MUNICIPALITY | TOTAL NEW DECEMBER CASES | RATE PER 1,000 POPULATION |
| --- | --- | --- |
| Bass River | 13 | 9.1 |
| Beverly | 25 | 10.1 |
| Bordentown City | 54 | 14.2 |
| Bordentown Township | 169 | 14.1 |
| Burlington City * | 170 | 17.2 |
| Burlington Township * | 369 | 16.4 |
| Chesterfield | 69 | 9.2 |
| Cinnaminson | 207 | 12.6 |
| Delanco | 45 | 10.1 |
| Delran * | 315 | 19.1 |
| Eastampton * | 106 | 17.8 |
| Edgewater Park * | 154 | 17.8 |
| Evesham | 611 | 13.6 |
| Fieldsboro | 8 | 14.8 |
| Florence | 190 | 15.2 |
| Hainesport | 89 | 14.8 |
| Lumberton | 180 | 14.7 |
| Mansfield * | 140 | 16.4 |
| Maple Shade * | 331 | 17.9 |
| Medford | 301 | 12.9 |
| Medford Lakes | 60 | 15.2 |
| Moorestown | 235 | 11.5 |
| Mount Holly | 126 | 13.2 |
| Mount Laurel | 521 | 12.6 |
| New Hanover | 7 | 0.9 |
| North Hanover  | 82 | 10.9 |
| Palmyra  | 92 | 12.8 |
| Pemberton Borough  | 17 | 12.8 |
| Pemberton Township | 309 | 11.4 |
| Riverside | 123 | 15.7 |
| Riverton | 29 | 10.8 |
| Shamong | 82 | 12.8 |
| Southampton | 138 | 13.6 |
| Springfield | 36 | 11.0 |
| Tabernacle | 76 | 11.1 |
| Washington  | 10 | 14.1 |
| Westampton * | 141 | 16.2 |
| Willingboro | 497 | 15.6 |
| Woodland  * | 32 | 18.1 |
| Wrightstown | 8 | 10.3 |
| | | |
| Burlington County total | 7,183 | 16.1 |
Camden County COVID-19 cases in December by municipality
| MUNICIPALITY | TOTAL NEW DECEMBER CASES | RATE PER 1,000 POPULATION |
| --- | --- | --- |
| Audubon | 140 | 16.2 |
| Audubon Park | 6 | 6.0 |
| Barrington | 114 | 17.2 |
| Bellmawr * | 253 | 22.3 |
| Berlin Borough | 116 | 15.4 |
| Berlin Township | 74 | 13.0 |
| Brooklawn | 22 | 11.6 |
| Camden * | 1,751 | 23.8 |
| Cherry Hill | 1,074 | 15.1 |
| Chesilhurst | 28 | 17.3 |
| Clementon | 85 | 17.1 |
| Collingswood | 153 | 11.0 |
| Gibbsboro | 24 | 10.8 |
| Gloucester City * | 205 | 18.3 |
| Gloucester Township * | 1,175 | 18.4 |
| Haddon Heights | 73 | 9.7 |
| Haddon Township | 189 | 13.0 |
| Haddonfield | 119 | 10.5 |
| Hi-Nella * | 18 | 21.0 |
| Laurel Springs | 26 | 13.9 |
| Lawnside * | 83 | 28.8 |
| Lindenwold * | 390 | 22.6 |
| Magnolia | 50 | 11.7 |
| Merchantville | 60 | 16.2 |
| Mount Ephraim | 72 | 15.7 |
| Oaklyn | 53 | 13.4 |
| Pennsauken * | 975 | 27.3 |
| Pine Hill * | 188 | 18.0 |
| Runnemede * | 152 | 18.3 |
| Somerdale | 90 | 16.4 |
| Stratford | 114 | 16.4 |
| Voorhees | 371 | 12.7 |
| Waterford | 154 | 14.4 |
| Winslow | 613 | 15.9 |
| Woodlynne | 50 | 17.2 |
| | | |
| Camden County Total | 9,060 | 17.9 |