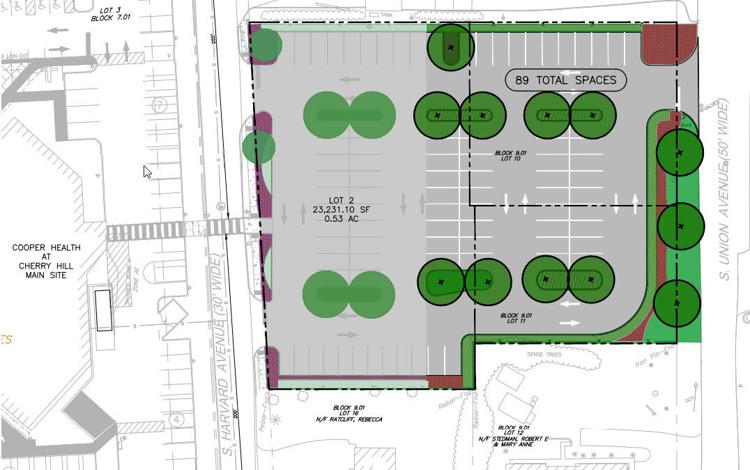 Cooper Health System can demolish two vacant homes on South Union Avenue in Cherry Hill to provide 33 additional employee parking spaces for its nearby office building on Route 70, the township Planning Board decided in a unanimous vote Monday night.
The new Cooper building, which opened in April, has not reached capacity in patients or staff and the new parking will be enough for full capacity, said former Cherry Hill Mayor Susan Bass Levin, who until March was president and CEO of the Cooper Foundation and oversaw the building of the facility. She now serves as a consultant.
Levin said the goal is to provide patient parking around the building and move employee parking off-site. Employee parking will total 89 spaces, with 33 on South Union Avenue added to the existing 56 on South Harvard Avenue.
Cooper in June bought the 6 S. Union Avenue home for $210,000 from the estate of William B. Hunter Jr., who died in 2019, according to the property deed. The other property, at 10 S. Union Avenue, was purchased by Cooper on May 29 for $160,000 from Wise Investors LLC of Bloomfield, NJ, according to the deed.
Two older trees on the site will not be removed, according to Cooper.
"The lighting spillover is a real concern," said board member Marlyn Kalitan, who said Cooper should agree to fix any spillover. Cooper agreed.
Rena Margulis, a Cherry Hill resident, agreed with Kalitan and told the board that shields are needed on lights on both lots. She also said that saving the trees should be a condition of approval.
The board voted 6-0 to approve.