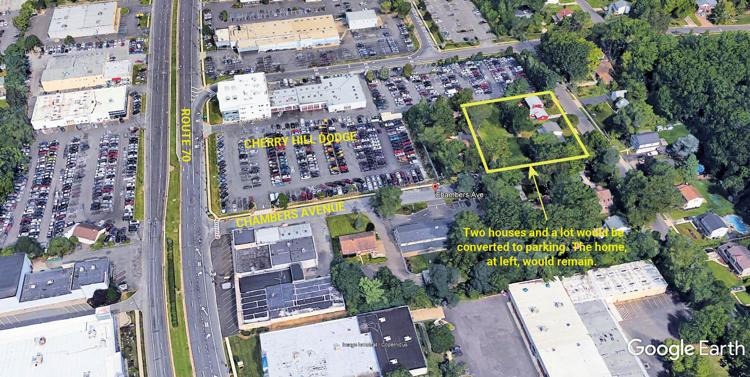 A proposal by the owner of Cherry Hill Dodge to tear down two homes next to its property to add 75 employee parking spaces goes before the Cherry Hill Planning Board on Monday evening.
The two homes and a lot would be converted to parking at a lot bounded by Route 70 and Chambers and Wynnwood avenues. A remaining home on Chambers Avenue would be bordered by dealership parking on three sides.
Dealership owner Charles W. Foulke Jr.'s proposal was continued from the July 20 meeting. The application and supporting documentation for the request is available on the Cherry Hill Planning Board site. The site also has the meeting agenda and how to connect virtually. A caucus begins at 7 p.m. and the meeting begins 7:30 p.m.
The dealer's proposal to expand farther into the Locustwood neighborhood is the latest by neighboring new car outlets. At a July 9 meeting, Cherry Hill's Zoning Board of Adjustment approved part of an expansion plan by the nearby Land Rover-Jaguar dealership on Haddonfield Road.
» MORE: Cherry Hill Dodge's expansion plans.
After a marathon meeting — it took three meetings to reach a decision — the zoning board after midnight approved new parking for Land Rover on the site of the former South Jersey Women's Center on Haddonfield Road but did not permit owner Cherry Hill Imports Auto Group to tear down two homes behind the dealership for additional parking. Many residents in the neighborhood testified against the plan.