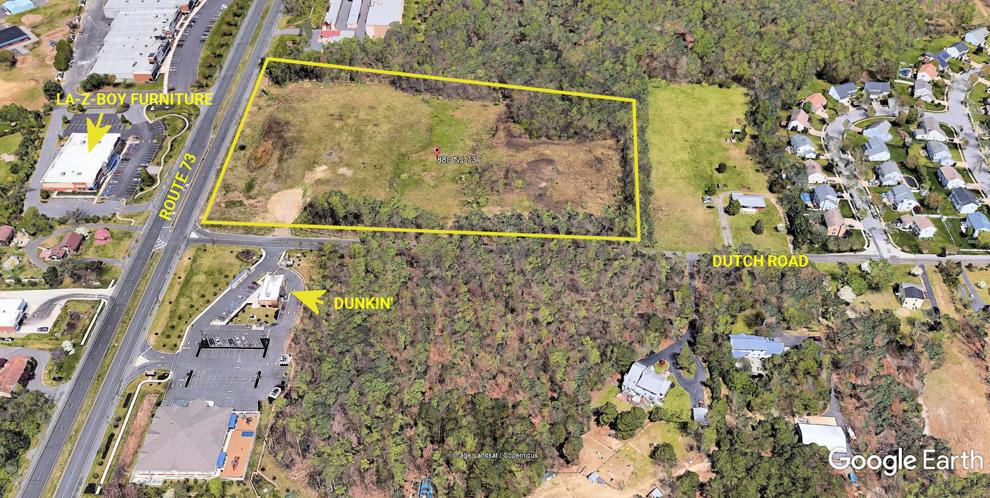 A St. Louis-based developer of a proposed 100-bed assisted-living and memory care facility at Route 73 and Dutch Road in Evesham is scheduled to present its plan to the township Zoning Board of Adjustment on September 21.
The board unanimously granted Oakleigh Development Group LLC several variances at its December 16, 2019 meeting. Now the developer needs site-plan approval before starting the project.
---
---
At the December meeting, lawyer Jeffrey I. Baron, of the Voorhees firm of Baron & Brennan, represented Oakleigh and said the board previously had given another developer approval to build a four-story hotel on the site. "Unfortunately, the development of the hotel did not go as easily as the owner planned and so they've been unable to sell it for a number of years," Baron told the board, noting the use of the undeveloped nine-acre site would be less intense than if it were a 100-room hotel.
"It is a high-end, luxury senior living community," Dan Thies, an Oakleigh partner, told the board at the meeting. Oakleigh Marlton would be the company's 19th such facility, with others in St. Louis, Kansas City, Indianapolis, Cincinnati, Detroit and Pittsburgh.
He said the market for the facility — seniors older than 75 — would be in a five-mile radius of Oakleigh Marlton. Thies said total employment would be an estimated 52 people. One amenity of the Oakleigh facilities is three meals a day offered 24 hours a day: the resident decides when to eat each meal and is not held to a schedule.