This is MYSTERY MUNCHER, a feature intended to chronicle dining at South Jersey eating places. These are not reviews, but simply the consumer experience from the 70and73 point of view. We Munch unannounced and always pay our own bill. You might think Muncher never has a bad meal. We do. But we write only about eating places we'd recommend to our friends. A sub-standard 70and73 dining experience means you won't read about it here. If you have nominations or suggestions, send email to contactus@70and73.com.
---
Mystery Muncher later will get to the flavors and food, but, first, a look at something else at Ginger Asian Cuisines in Medford. The restaurant, tucked away in a strip shopping center near Route 70, looks like any other, well, strip shopping center restaurant from the outside.
But walk through the door and you'll be struck by the classy atmosphere of this restaurant. Warm, earth tones. Decorative tiles in the walls. A handsome middle-of-the-room tower with reclining Buddha statue. What appear to be glass fish hang from the ceiling over Buddha with round "bubbles" floating up from the strings holding them. A side dining room with tasteful beaded curtain for privacy. Comfortable leather-like chairs surround each table.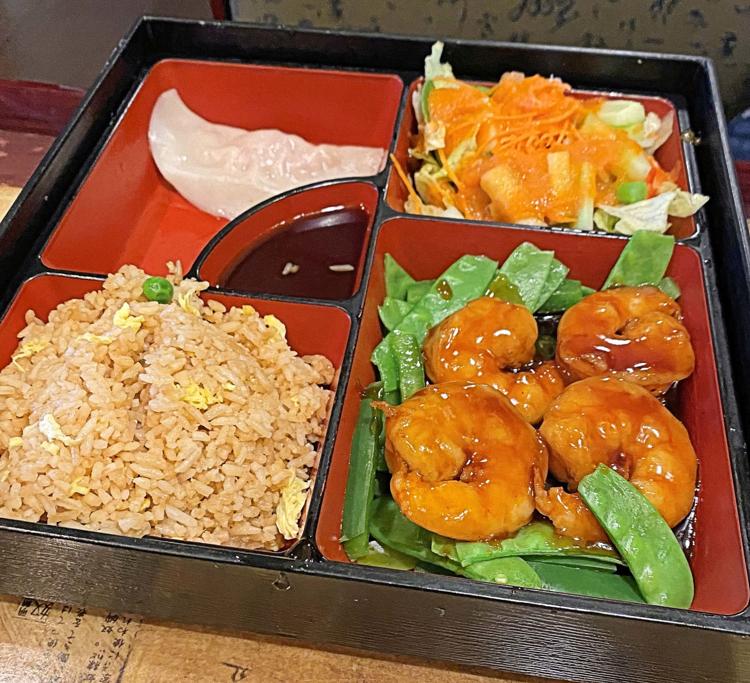 An equal amount of thought went into how some of the food is served. How often has Muncher gotten his order at a Chinese restaurant only to have everything running together on a pedestrian china plate? Not here. Our Teriyaki Shrimp and Teriyaki Beef were served in Bento boxes, which separated each of the foods into their own compartments. Muncher and his companion looked up at the same time when the Bento showed up, with a remark of something like "How cool is that?"
Two dozen smaller portion dinners are listed on the "Lunch Express" menu with prices ranging from $7.25 to $9.75, according to the take-out menu. Each includes a choice of rice (white, brown or fried) and choice of spring roll or soup (Wonton, Miso, Egg Drop, House and Sour). 
Ginger's full menu is an adventure into, as it says, "A Taste of Asia," including dishes that are from China, Japan, Thailand, Vietnam and Korea.
Ginger — in the Shoppes at Wilkins Station, 7-100 Wilkins Station Road in Medford just off Route 70 — is closed Monday. The Lunch Express menu is offered 11:30 a.m. to 3 p.m. Tuesday through Friday, according to the take-out menu. On Saturday and Sunday, Ginger offers Lunch Express from 12:30 to 3 p.m.
Restaurant hours are Tuesday through Thursday, 11:30 a.m. to 9:30 p.m.; Friday, 11:30 a.m. to 10:30 p.m.; Saturday, 12:30 to 10:30 p.m. and Sunday, 12:30 to 9:30 p.m. Credit cards are accepted. The restaurant phone is (609) 953-7888.
Quality and taste of the food was as good as the quality of the atmosphere and presentation.
Muncher admits an addiction to Hot and Sour Soup. No such soup goes untasted when Muncher is on the dining prowl. The soup for lunch at Ginger recently (January 10) quickly rose into the Muncher's Top 5 of all time, even close to challenging the No. 1 most-favorite Hot and Sour blend. If you drop in to dine at Ginger, don't miss the Hot and Sour soup.
Our assistant Muncher ordered the Teriyaki Shrimp ($9.50) from the lunch menu, but also strayed to the regular menu and ordered her favorite Tom Yum Kung soup (for two; $7.50). The Tom Yum was packed with filling and certainly enough for two people. Half of it went home with her and provided another meal.
The Teriyaki Shrimp and Muncher's Teriyaki Beef ($9.50) came in the Bento box with fried rice, a steamed dumpling and salad with delicious ginger dressing (our assistant Muncher wondered aloud if they'd give her the recipe and then said they probably would not). A request for no onions in the fried rice was granted. The shrimp and the beef were tasty and, with the rest of the Bento box, filling for a lunch meal.
Spring rolls that came with the meal were done just right. So often they are overcooked, resulting in a tough-to-crack shell.
Both our server and the Ginger manager doted on us, making sure the food was satisfactory. We think we maintained our disguises and this was simply great service. The manager spent some time to talk about the restaurant and menu items.
A pleasant surprise? So many Chinese and Asian restaurants no longer serve the complimentary deep-fried noodles and duck sauce. But at Ginger this came with the water and the sauce dish was replenished without asking. Some traditions of the "old-school" Chinese restaurants should live on.