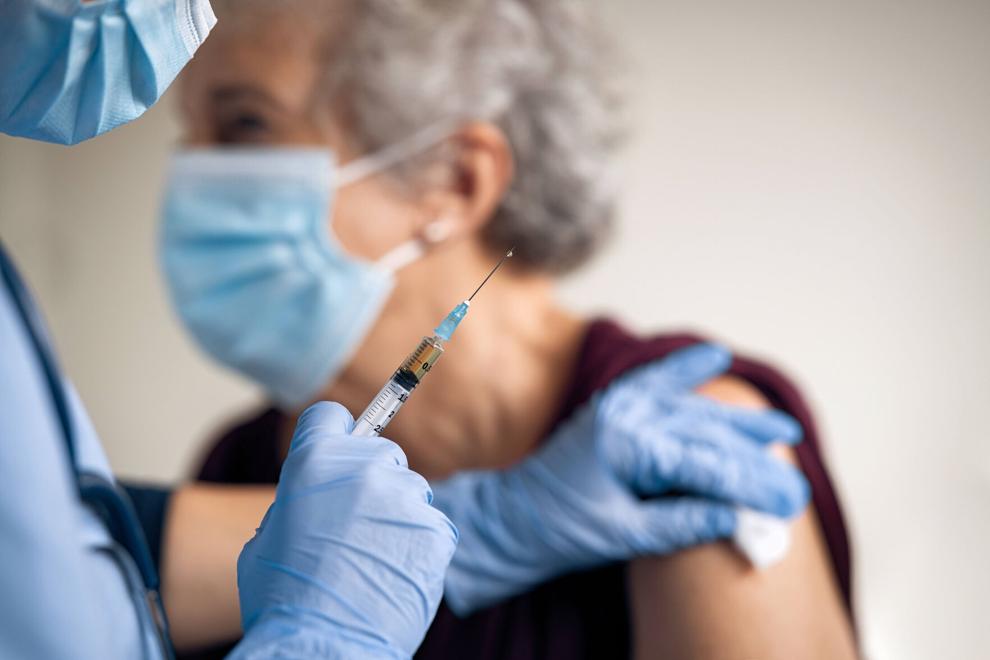 About 26% of New Jersey residents 18 and older have been fully vaccinated against COVID-19 — slightly higher than the national average of about 23%, according to government statistics.
In New Jersey, the fully vaccinated rate ranges from a low of 16% in Hudson County to a high of 35% in Cape May County, an analysis of state data by 70and73.com shows. The rates in Burlington and Camden counties are 28% and 29% respectively. All data are reported as of 8 a.m. Tuesday. See full county-by-county table below.
The expansion of the vaccinated comes as New Jersey Gov. Phil Murphy announced Monday that everyone 16 years and older in the state will be eligible to receive the vaccine effective April 19, which is two weeks ahead of the scheduled May 1 date.
"With increasing supply of vaccine from the federal government, New Jersey has been ramping up the pace of doses administered and adding points of dispensing across the state, allowing us to extend eligibility to all adults sooner than expected," New Jersey Health Commissioner Judith Persichilli said in a statement.
» MORE: See the CDC's state-by-state vaccination comparison.
Effective this past Monday, all residents 55 and older were eligible to get the vaccine. A wide range of residents younger than 55 have been eligible over time and Monday the list was expanded to include higher education educators and staff, librarians and library staff, the retail financial sector, laundry service workers, building and home services workers, communications infrastructure and IT workers, utilities workers, sanitation workers and members of the media.
COVID-19 vaccination progress in NJ
| County | At least one dose | Fully vaccinated | % at least one | % fully vaccinated |
| --- | --- | --- | --- | --- |
| New Jersey | 3,461,239 | 2,192,021 | 50% | 32% |
| | | | | |
| Atlantic | 108,285 | 69,257 | 52% | 33% |
| Bergen | 376,859 | 253,694 | 51% | 35% |
| Burlington | 177,607 | 121,096 | 50% | 34% |
| Camden | 200,269 | 138,167 | 51% | 35% |
| Cape May | 42,417 | 31,404 | 55% | 41% |
| Cumberland | 48,709 | 31,014 | 42% | 27% |
| Essex | 278,559 | 161,277 | 46% | 27% |
| Gloucester | 117,996 | 83,705 | 52% | 37% |
| Hudson | 226,604 | 112,874 | 43% | 21% |
| Hunterdon | 50,190 | 29,797 | 50% | 30% |
| Mercer | 140,223 | 87,248 | 48% | 30% |
| Middlesex | 300,746 | 180,841 | 47% | 28% |
| Monmouth | 250,606 | 161,712 | 51% | 33% |
| Morris | 234,927 | 154,133 | 61% | 40% |
| Ocean | 163,964 | 99,098 | 36% | 22% |
| Passaic | 203,032 | 137,077 | 53% | 36% |
| Salem | 21,494 | 14,154 | 44% | 29% |
| Somerset | 141,562 | 88,349 | 55% | 34% |
| Sussex | 53,398 | 34,197 | 47% | 30% |
| Union | 193,946 | 112,617 | 46% | 27% |
| Warren | 33,442 | 22,590 | 39% | 27% |
| Unknown | 11,391 | 12,085 | --- | --- |
| Out of State | 85,013 | 55,635 | --- | --- |